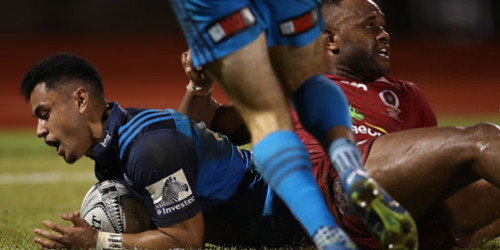 Blues coach Tana Umaga said it had been a deliberate decision to give younger players in the squad a chance and they had received some big minutes in the game.
---
QUICK TAP: NZ UNDER 20'S NAMED TO FACE ITALY
---
It had also been a chance to give more experienced players who had been hampered by injuries game time as well while building depth for the future – which is all that is left in the Blues season now that they are out of play-offs contention.
Umaga said it had been a big call to play a game in Apia but was one he was very happy the Blues made.
"We got the result we wanted in the end," he said.
It had been significant to come back to the country where his parents were born to play the game. It had shown that Apia had the facilities and he hoped it wasn't the last game that was played there.
Captain James Parsons thought the game had been good for 'growing the younger players who haven't had a lot of opportunity' during the season. They had worked hard behind the scenes to get the chance.
"It didn't go to plan so much at the start of that second half but what they did do was fight out of it and at a young age if you can learn as a group to fight out of it and win ugly, you are going to learn more out of those games," he said.
Parsons said Rene Ranger and Kara Pryor deserved special mention. They had been around a while but they took their opportunities with both hands.
"Rene's pick-up off that kick-off, those are match sealing moments and he executed them under pressure and with confidence," he said.
The experience of playing in Apia had been a big focus for the side, because of the contribution Samoa had made to the Blues franchise, and which they were continuing to do.
"It meant a lot to a lot of our players who do have Samoan heritage. We hope we have done that with a performance we can be proud of and they have enjoyed. I think it was a good spectacle on the night.
Parsons said the chance to play the British & Irish Lions was one of the big reasons he had stayed around for 2017.
"I didn't want to think about it too much because if you think about it too much you don't get there. My knee took a bit of a bang tonight but I don't think anything will hold me back from the opportunity to play a Lions team," he said.
We get the 'W" in the first-ever Investec Super Rugby match in Samoa #BLUvRED pic.twitter.com/dw8iy7mDn2— The Blues (@BluesRugbyTeam) June 2, 2017