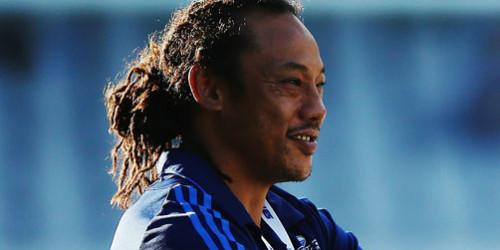 It didn't matter what position the All Blacks first five-eighths, who is on the Blues shopping list when he comes off contract, played he was capable of making things happen, he said.
---
QUICK TAP: BLUES LOSE KEY PLAYER FOR 2017
---
But much as the Blues might be interested Umaga said it would be hard to see Barrett moving from the Hurricanes because he was such an integral part of the organisation.
He wouldn't say never, as the Blues had experienced with the move by wing Tevita Li to the Highlanders, but he said it was more likely Barrett would stay where he was.
The returning All Blacks had adapted easily back to the Blues environment and had led several aspects in the team preparation.
"It's as if we haven't skipped a beat and has been really good," Umaga said.
It had also been helpful that Jerome Kaino and Patrick Tuipulotu hadn't played in the third Test so they were fresh and itching to go, he said.
Umaga was delighted with the way George Moala had taken his chance in the third Test and had continued the form he had been showing in the latter stages of Super Rugby, and had been confident in his role.
He felt Moala had been trying very hard to regain his All Blacks status early on in the season and when things didn't work it was natural to start to doubt and look inside and wonder if that was what you should be doing.
"And that becomes a bit of hesitancy and you can't hesitate in this game, so we've just got to get him confident in what he's about and who he is and I think he did that. He got back to relying on what his strengths were," he said.

The @BluesRugbyTeam will be looking for this form to fire against @Hurricanesrugby on Saturday. #HURvBLU #SuperRugbyhttps://t.co/4gpzqbZEA6— Super Rugby (@SuperRugbyNZ) June 29, 2016
Umaga wasn't sure how long Moala would be out but they would be taking medical advice on that while prop Charlie Faumuina was doing everything he could to get back and it would be a case of managing that.
In reference to the loss of Li to the Highlanders, Umaga said the Blues were aware the offer was on the table and they had talked with Li about where he wanted to go and what his goals were. They had also talked about getting out of his comfort zone to really make him accountable for himself.
"To his credit I think he made a really tough decision to leave family. We wanted him, and everything's here for him and to go outside of that is putting pressure on himself and I think it will be good for him. I take my hat off to him for making that decision.
"Obviously we didn't want to lose him but this is rugby and we wish him all the best," he said.
With the future shape of the Super Rugby competition being considered by Sanzar officials in Auckland this week, Umaga said it was hard for him to have an opinion because it was only his first season.
But he did feel the June window was tough when trying to keep players motivated for four weeks. He wondered if the competition shouldn't continue through as a way of testing the depth of sides while also providing game time for players who don't always get the opportunities.
Rather than having the New Zealand sides play each other twice he wondered whether a competition where everyone played every other team might be the best. The local derbies in New Zealand were brutal and the country was hamstrung by how good the sides were, he said.