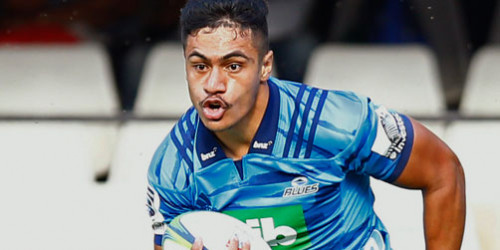 Blues coach Leon MacDonald, after his first season with the side, said there was no doubt they were disappointed in not making their season's goal, a place in the playoffs, but at the same time there were positives to emerge.
---
QUICK TAP: HURRICANES TAKE STOCK OF RESOURCES FOR BLUES
---
"On the flip side of that [disappointment] we were in every single game," he said.
"There wasn't any game that wasn't there for us to get the result so it means we're really competitive. We've been beating the New Zealand teams and the losses we've had have been tight ones against the New Zealand teams and we feel we're right in the mix.
"The foundation's are there. The biggest thing for us is to make sure that we start from this point next year and don't go backwards and we learn from it.
"Next year is a big year for us and I feel like we've made a good step in the right direction," he said.
MacDonald said he was keen for the coaching group to be retained because they worked well together and he felt they were making good progress.

The Blues to take on @Hurricanesrugby

??? Saturday June 15
? 7:30pm
?? Westpac Stadium
?? @skysportnz 1#RiseUp #BluesAllDay #HURvBLU pic.twitter.com/mhrokibNTH— The Blues (@BluesRugbyTeam) June 13, 2019
There were issues with game management and skill execution, but at the same time a new coaching group had been involved and it had been about learning everything the coaches wanted to implement. Next year, another 12 months on, it would be about consolidating and growing on the 2019 season.
"There will be a lot less learning next year and a lot more refining and polish so I'm looking forward to getting into that work as well," he said.
The challenges with the Blues had been enjoyable and there was a relentlessness among the players to get better and that had been seen at their final training run where they worked as hard as they had at the start of the season.
"As long as we continue with that attitude we are going to get better," he said.
Looking to the Hurricanes game he said there have been a few factors around selection but they felt they had the right team for the game.
"We've got an eye on the future and we want to respect Sonny [Bill Williams] and give him a good opportunity to play because he's been working hard in the background.
"And Ma'a [Nonu] has carried a massive workload this year. He's beaten up. He doesn't tell anyone, but he's got a sore body and keeps working for us. The mix is right and we think you will see both guys play with a lot of energy when they get on the field," he said.
The choice of Tanielu Tele'a at centre came after he had played well for them on the wing, but his preferred position was in the midfield, something they had wanted to try earlier in the season. But it was a good opportunity for him to play outside Williams and Nonu.
There were some good young players in the squad and as a result of injuries they were testing their depth at prop.
MacDonald said he hadn't been distracted from the side's preparation for the Hurricanes by the discussions around All Blacks first five-eighths Beauden Barrett's future plans.
He had been concentrating on getting the team pointing in the way they need and he wouldn't be speculating on signings or players.
It's almost finals time. Who will step up, who will be watching? #RaiseTheStakes pic.twitter.com/7AVtEwms1M— Super Rugby (@SuperRugbyNZ) June 13, 2019