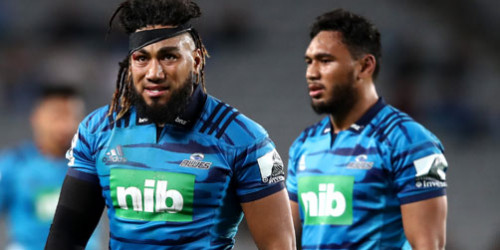 Assistant coach Tana Umaga knows full well the danger a confident Crusaders side represents at the best of times but under pressure they had the ability to be even tougher to break.
---
"We can't give them opportunities. They're a team that lives off opportunities, dropped balls, their kick-chase, guys not clear in their roles and making an error. That's not just in terms of [with] the ball but also without the ball. We have got to be in certain places, they're very good at picking out those things," he said.
First five-eighths Richie Mo'unga was a constant danger while the All Blacks forward pack meant he got the ball when he wanted, and needed, it. All 15 of the side could be regarded as threats because they were playing with a lot of confidence, he said.
It was important for the Blues to focus on their own game because they had shown when they did that they could look world class. But it was little details, especially close to the line, that were important.
Umaga said he was sure the people who needed to deal with the issues the Crusaders face would be dealing with them the best they could by making sure all the right processes were in place. For the Blues it was just a case of concentrating on their own game.
"We're going down there to achieve an outcome we've been working hard for. It's not going to be easy so we've got enough to focus on ourselves," he said.

Remember this magic from the @BluesRugbyTeam last time they faced the @crusadersrugby? ??

?? THE REMATCH | This Saturday. Kick-off: 7:35pm#RaiseTheStakes pic.twitter.com/gZq3nXNus9— Super Rugby (@SuperRugbyNZ) May 23, 2019
Quality sides facing some adversity tended to pull together and the Crusaders, who were already a tight unit, and anything that brought them together was worrisome for the Blues attempting to beat them.
"It's made our job even more difficult to go down there and get the result," he said.
Getting the win over the Chiefs last weekend to end eight years without a win was on its own was satisfying given how long since they had beaten them.
"We've been close, there or thereabouts, I think we stayed at it, as we do, and we probably should have scored earlier on and we make it hard for ourselves to be in one 22 and then end in our own 22 two seconds later. It can break you, but we stuck at it and built phases and kept the pressure on to get the result," he said.
The final try, for a bonus point at the end, had shown the growth of the side and the growing belief that if they kept at what they practiced they would get the results they wanted.
The ability to field similar combinations week after week had been important for the growth and understanding that had occurred in the side this year.
While they performed well against the Crusaders in the opening game of the season, going down 22-24, Umaga said it seemed like a long time ago now and teams had changed. The Crusaders had adapted their game and made changes and it was important the Blues looked at the pictures that were in front of them at the moment.

PREVIEW | The re-match everyone has been waiting for! Check out the stats, the scoop, and the teams in our match preview! Let us know who you're backing. ????

READ MORE ?? https://t.co/TpgH8HJN3s pic.twitter.com/pZVRPWDhXt— Super Rugby (@SuperRugbyNZ) May 23, 2019