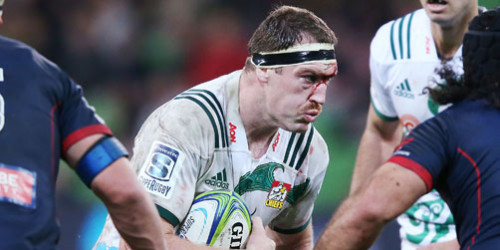 Because of the significance of the occasion to the Jaguares, the Chiefs were expecting them to come out to and throw everything possible at the Chiefs from the start and assistant coach Tabai Matson said it would be a case of the Chiefs being ready for that onslaught.
---
QUICK TAP: CRUSADERS RESPECT HIGHLANDERS' THREAT
---
However, having had many members of the side exposed to playoffs rugby in the past, and having played Test rugby, meant they just had to absorb that before turning pressure back on the Jaguares, he said.
The Chiefs only had to remember how long it took them to beat the Jaguares in their roundrobin game, scoring the winning try five minutes from the end to win 30-27 and Matson said for that reason the last quarter was going to be absolutely critical again.
"The people we have coming off the bench will probably turn the tide," he said.
"Like all the teams that have played recently their current form has been really important. You don't win the South African Conference unless you are playing consistently well throughout the year.
"They've got a lot of international players, a lot of the bread and butter stuff, the set-piece, what they do round kick-offs, their defence means it is going to be an arm wrestle. The nature of playoffs is that it is not as expansive as the roundrobin stuff so we know they are going to try and squeeze the life out of us and if we're not prepared for that, we'll have a really long night at the office," he said.
But knowing that their focus was on playing Chiefs rugby.
Matson said the side were well over their travel issues and were looking forward to the opportunity the quarterfinal had presented them with to go another step in their campaign.
"A month ago it was a bit of a long shot but now we've got a chance," he said.

?? Match officials confirmed for #SuperRugby quarterfinals ??

READ ???? https://t.co/NiWiJzQlgD pic.twitter.com/zki81cr5FN— Super Rugby (@SuperRugbyNZ) June 20, 2019
"We're performing well as a team because individuals are playing well. Confidence is a big thing and the way we have played over the last three games has given people confidence so we're looking to carry that momentum through the week and give the Jaguars a real good run," he said.
The side's recovery in the latter stages of the competition, with players returning from injury like flanker Sam Cane and lock Brodie Retallick, meant they were match hardened and aware that the next game was their most important one.
It also helped that through the final stages they were able to achieve consistency of selection and after what they had been through during the season injury-wise, it was 'pretty phenomenal' to be able to do that at this stage.
"Like last week we just need to move forward, play well and get a result. Everyone is excited about being in a quarterfinal. We've been on a knife-edge for a month and now that we are here we are really excited because we have given ourselves an opportunity," he said.
Wet weather was forecast for the game and that could mean a more pragmatic approach from the Chiefs, initially at least, and while they wanted to continue to run the ball, they were prepared for a typical playoffs arm wrestle.
PIRI'S PICKS | Is Piri picking his former club to make the Super Rugby semifinals? Will he be backing the Highlanders to upset the Crusaders in Christchurch? ??‍?? Find out here.#RaiseTheStakes pic.twitter.com/jFYkdbXsO7— Super Rugby (@SuperRugbyNZ) June 20, 2019