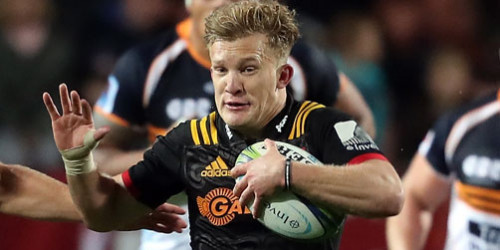 McKenzie's knee injury suffered against the Blues was revealed as a ruptured knee ligament that will rule him out for the remainder of the season.
---
QUICK TAP: PIRI WEEPU PICKS HIS FORM XV FROM ROUND NINE
---
"We've just got to move on, the game carries on," coach Colin Cooper said as the Chiefs prepared to face the Lions on Friday, a short week which would concentrate more on the mental preparation than the physical.
Cooper said McKenzie's loss was disappointing for him and for the Chiefs in the remainder of Super Rugby but it was really disappointing for New Zealand rugby and the World Cup.
His energy, ability to play first five-eighths or fullback, his ability on the carry and his defence would be missed by both the Chiefs and All Blacks, but Cooper added that above all of that he was an outstanding young man off the field.
"Over in Argentina particularly, he was the last one to come in from signing with the kids and we saw that in Japan also, so he's a wonderful ambassador for the game and he will be missed," he said.
"We're going to have to work collectively to replace him, him as an individual and the x-factor he brings, and the durability he brings, particularly in the tackle area, is hard to replace," he said.
Better news for the team was the late call-up of prop Atu Moli to the All Blacks' Foundation Day and after the frustrations he had endured with injuries, Cooper was pleased and it showed where he was sitting in the rankings. He played 80 minutes of club rugby at the weekend and Cooper was hopeful he could be an option for the Lions game on Friday.
While the game against the Blues at the weekend had been physical he was expecting an even more physical contest against the Lions.
"We're going to have to be really smart when we take the ball into contact. We were able to get a few turnovers at ruck time and we probably had an edge on the Blues in that area and I'm expecting the Lions to be a lot harder in that area," he said.
Winning the contact area had been vital against the Blues. The Chiefs had been more physical and they slowed the Blues' ball down. Their work ethic was reflected in the 189 tackles they made compared to 80 made by the Blues.
"We turned seven of their rucks over and slowed a lot of their ball down," he said.
But the Chiefs were hard workers and that was showing through as they became more familiar with the style of game they were trying to play.