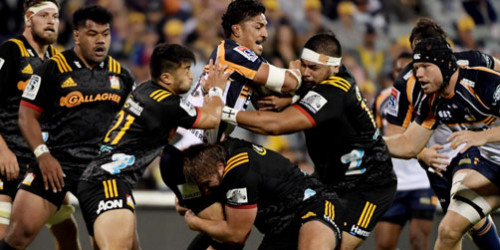 Coach Colin Cooper said the Chiefs would look at the problem areas that emerged and start working on improving them straight away.
"It's one of those games, you've just got to move on. We got beaten pretty much everywhere – scrum, lineout and particularly the collision area. They were a lot lower, a lot more ruthless. I thought they slowed our ball down and put us under a lot of pressure," he said.
While the Brumbies were desperate to win after their first round home loss to the Rebels, Cooper said the Chiefs also wanted to win, especially in celebration of captain Brodie Retallick's 100th Super Rugby game.
The Brumbies had always been a threat, he said, they had good coaches and were a side the Chiefs never took lightly.
"We need to regroup pretty quickly, have a good look where we need to improve and making sure we nail that before the Sunwolves who nearly beat the Waratahs. So they're going to come over with their tails up too, so we've just got to dig deep," he said.
The Sunwolves had turned Waratahs ball over and sent messages to the Chiefs, not that they needed any more messages after their loss.
Retallick said there hadn't been too much to be excited by in the loss. He felt the side had prepared well leading into the game.
"We knew exactly where the Brumbies were going to come, we just didn't get it right. We're going to have to regroup and address it pretty quickly because the Sunwolves are on their way.
"I felt when we did hold the ball we did build some pressure but it was more defensively where we made an error or didn't quite get our set piece right that we let them in and they capitalised.
"We were still positive going into the second half [down 10-33] but full credit to the Brumbies, they turned on a pretty impressive 80-minute performance," he said.
Retallick said he felt the uplift in performances by the Australian sides to date this season had been a reflection of how disappointed they were with efforts last year and it showed they had been working hard and had come a long way.
Cooper said No.8 Tyler Ardron had suffered concussion in the game, lock Michael Allardice had a knee injury and hooker Nathan Harris had a neck injury.