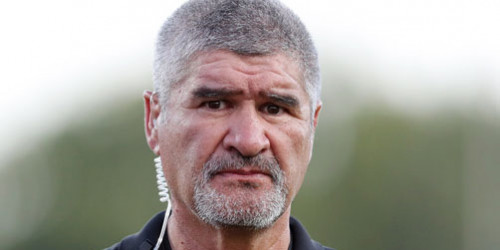 Chiefs coach Colin Cooper said the Blues had threats all across the park but having secured two wins on the road success at home would be about continuing to believe in themselves and their plans.
---
QUICK TAP: SUPER CHALLENGE #2 - THE ULTIMATE MUSIC QUIZ
---
Cooper said the Hurricanes game had given the side a boost in confidence before heading overseas and they had united with more time together. Their lack of success had allowed them to slip under the radar, not being rated by the Bulls, and they secured a win.
That set them up for the Buenos Aires leg and Cooper said he was proud of the way the players responded to the humidity they played in, and the hostile crowd, to tough out a good win.
Looking to the Blues, he said they had always been a sleeping giant.
"It looks like they've finally woken up and they're playing to their strengths. They'll be really tough. I think our bye has come at a good time for us to reset from the journey and we're having a good week to take on a really tough opponent," he said.

???? ROOKIE WATCH | Who were the standout rookies in round eight? Check out who impressed this week and the full Rookie of the Year leader-board ????????????https://t.co/dHkj9pqhuE pic.twitter.com/RQdf9Mj4IS— Super Rugby (@SuperRugbyNZ) April 9, 2019
Cooper said he hasn't been surprised by second five-eighths Ma'a Nonu's form for the Blues. He had put his hand up to say he was back and was in top form.
Cooper was also not surprised by the way Tana Umaga had stepped into the defence coaching role with the Blues. While Umaga had been the attack coach under Cooper for the Maori All Blacks, he said to be a good defence coach you had to be attack-minded.
"For him slipping into defence, and defensively doing well, is no surprise," he said.
Just where Damian McKenzie was selected in the future would be dependent on resources at first five-eighths. Since moving to fullback the fortunes of the team had changed, but that was also a reflection that Marty McKenzie had performed well at first five-eighths, where Jack Debreczeney and Stephen Donald would also be available after recovering from injuries.
Another factor in the slower start had been the change in defensive systems, with a new defence coach, and there had been communication issues.
"We've tidied up, we've got used to the system and, as I've said before, I'm a big backer of the system so we'll continue to use that system and our defence has got better over the last couple of games," he said.
The side had also tidied up their attack, and they had stopped throwing the ball away.
"We're maintaining the ball, we're keeping 50 percent at least and our quick ball has got better," he said.
Flanker Sam Cane has been slowly reintroduced to contact work with the side and he would be managed through more contact in the next two weeks before deciding on his immediate future after that. He would play club rugby first and then be eased back from the Chiefs' bench.
"He's excited, he's excited to be back. It's been a tough journey for him but as a co-captain he's been playing a key part in making sure there there is accountability and there is some honesty among us as coaches and players, so he's had a role there," Cooper said.
ROUND 9? | Who will take out the two New Zealand derbies this week? ??#RaiseTheStakes pic.twitter.com/gIWqDgZ9XP— Super Rugby (@SuperRugbyNZ) April 9, 2019