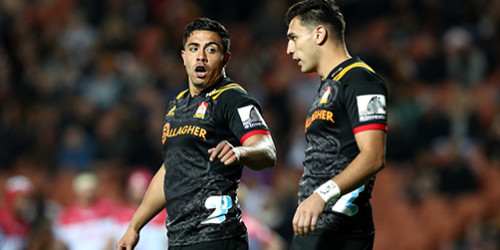 But the Chiefs are confident they can handle whatever is thrown at them in the game.
Chiefs assistant coach Neil Barnes said the travel to Buenos Aires had worked well for the side being a night flight which meant players had been able to sleep on the trip.
---
QUICK TAP: NZ RUGBY CONGRATULATES SUPER CLUBS
---
Barnes said it had been raining in Buenos Aires since they arrived and there was water everywhere.
Barnes didn't think the Jaguares' lack of experience in playoffs rugby would count against them compared to the Chiefs. They were close to an international side with most having played Test match rugby so they wouldn't be too concerned about playing in a quarterfinal.
"It's knockout stage so you know there's a bit more hanging on it but you just have to concentrate on the basics you are doing as a team and do them well," he said.
Barnes didn't think much could be read into the regular season game played between the two sides, also in Buenos Aires when the Chiefs won 30-27.

It's #SuperRugby finals time! Steve Hansen will be watching...will you? ??#RaiseTheStakes pic.twitter.com/MUGy1xhtZB— Super Rugby (@SuperRugbyNZ) June 18, 2019
"Their game's changed a bit and so has ours so you're both starting from zero again and you've got to earn your points on the way through so the only help is we're familiar with the country, we're familiar with where we're staying, familiar with where we're playing but it's going to be a huge challenge for both teams," he said.
The Jaguares had played some great rugby during the first half of the season and as the weather got wetter they had adjusted their game to suit and they proved one of the more accurate teams in the competition. When the fields were dry they had moved the ball with a lot of off-loading and running it from everywhere.
But when the wetter weather came they adjusted their game and were one of the biggest kicking sides in the competition.
"They don't give you any opportunities or make mistakes at their own end of the field so we'll have to make sure we handle their kicking game and get them back down the other end of the field and put them under pressure," he said.
Lock Brodie Retallick had come through his first game well after two months off with an injury and he would be better for that run. Having both him and flanker Sam Cane back in the side was a big boost and lifted the other players, he said.
"We're getting our game together at the right end of the season, there's been a lot of hard work go in and I'm just pleased the boys are getting the rewards now. It's a nice time of the year to have your game running as smoothly as it is at the moment, but you have to earn that every week," he said.
The only injury concern with the side concerns Alex Nankivell and he remains bracketed with Ataata Moeakiola for the game.
?? With four New Zealand teams in the playoffs was there ever any reason to panic? Find out what @PiriWeepu thinks on this episode of Extra Time! pic.twitter.com/PqUCUbhNtk— Super Rugby (@SuperRugbyNZ) June 18, 2019