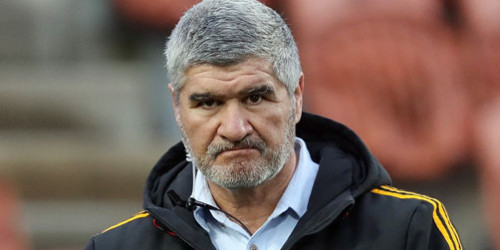 Having their last game in Brisbane, in potentially very hot conditions, was important to them as their last preparation before their opening Super Rugby game against the Highlanders in a fortnight.
---
QUICK TAP: SUNWOLVES BOLSTER SQUAD FOR 2019
---
Coach Colin Cooper said Brisbane's heat wouldn't be an issue because it had also been hot during the build-up in Hamilton, Cooper said.
Atu Moli is making a return to the side after a year out with injury and while he was in great shape it was about game time when building back into the game.
"It's a bit nervy for him and you can understand that and he got through really, really well. I only gave him 10 minutes and he wanted to play another 10 minutes so he ended up playing a quarter, 20 minutes, [against the Blues] and came off the field feeling really good," Cooper said.
The side had taken some good messages out of the way the Blues got into them in the collision area and would be a win for them in the future.
It was a typical pre-season outing with some lack of positional play which would be sorted.

?? How good was Brodie Retallick's 'show and go' last year? Anton, Nate and TTT take a close look at the big man's ball skills.

??? Want to catch more action live? grab your @ChiefsRugby season tickets here: https://t.co/sdHAZPTsNb pic.twitter.com/qkkipte4pL— Super Rugby (@SuperRugbyNZ) February 1, 2019
"It was about change so it was about giving people the opportunity to see how they can react to the pressure that was on and how they can react to the game we're playing," he said.
Former Rebels and Northland five-eighths Jack Debreczeny was settling in well but he was another new player who had to learn the side's structures and he had to learn to work with the people inside and outside him but he was coming along well, he said.
"He's got a lot of experience, he's bringing that experience through. He just needs to find his way with the players and the Chiefs' style.
"For him it's just about learning our game and making sure that he plays our game better. We didn't react very well last week, there were line breaks and we were slow to react and the Chiefs way is that we go until we die basically so it's just those little changes that the newer players have to find out.
Utility back Marty McKenzie was about three weeks away from returning to the side after a hip operation.
Solomon Alaimalo has a small fracture in his wrist and will be out for another four weeks. Liam Polwart has a concussion and is being monitored.
Would you play it safe or raise the stakes? ??#SuperRugby coming 15.02.19. Get your tickets here ?? https://t.co/LdJdt7tc56 pic.twitter.com/yIPOHlLoiT— Super Rugby (@SuperRugbyNZ) February 4, 2019