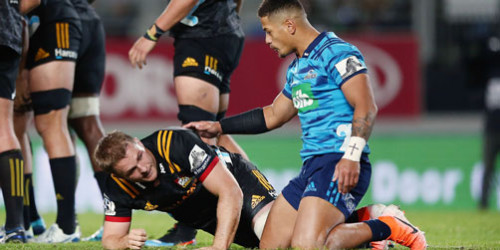 The 8-23 loss was the first suffered by the Chiefs to the Blues since 2011 and left them three points adrift on the New Zealand Conference points table.
---
Cooper was one of several coaches over the weekend unhappy with some of the adjudications made in their games.
"At 10-8 we were in the fight and tries went their way which maybe should have had a look at and we got awarded a try and I couldn't…unless the TMO got other views, I couldn't understand why it wasn't a try so we didn't get the rub of the green," he said.
"Well done to the Blues, they ended up winning the game but for the Chiefs we never stopped fighting, we stayed in the hunt. We went really hard and we tried and the boys tried but when you don't get the rub of the green, particularly in a close game like this it went against us hard."
The try scored by Blues prop Ofa Tuungafasi, at a crucial stage of the game, was significant, he felt.

Welcome back Sam Cane ???? pic.twitter.com/FNcPaYhXIk— Super Rugby (@SuperRugbyNZ) May 18, 2019
"If you have a look he clearly knocked it on, I don't know if the TMO checked it or he didn't check it."
When a try to Chiefs forward Pita Gus Sowakula was ruled out for him having lost the ball, he wondered if the TMO had a view that the crowd and team management didn't see.
"He [Sowakula] tells me it slipped but he caught it then grounded it. But when you get awarded a try you have to prove that it isn't a try so the Chiefs didn't get the rub of the green there, did they?"
That was a shame, he said, and it had helped the Blues.
His side were fighters, as borne out by the tackling statistics, and they had never stopped fighting and as a coach that was all he could ask for.
There had been benefit in the game for flanker Sam Cane in his managed return. He got game time and he was looking good for both the Chiefs and the country. Cane first ran on as a blood bin replacement for Mitch Karpik in the first half and then had a longer stint in the second half.
"I saw a couple of big hits and I didn't see him shy off anything so it was good to see him back."
Cooper was unsure where the loss left the side's season but he said they wouldn't stop believing or fighting.
ROUND 1?5? | Following some shock results last weekend, how hard will it be to predict this round? ??‍????‍??#RaiseTheStakes pic.twitter.com/83vMgPgbWA— Super Rugby (@SuperRugbyNZ) May 19, 2019