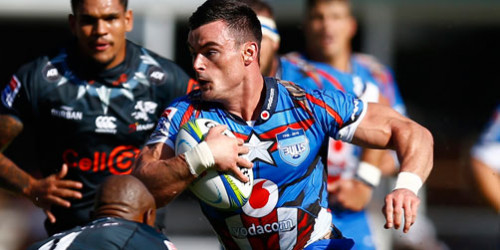 Kriel had been out of action due to an ankle injury and while it was felt he could have played last weekend against the Lions, it was decided to give him another week in the hope the Bulls would have a quarterfinal to play.
---
QUICK TAP: CHIEFS SETTLE IN FOR JAGUARES CHALLENGE
---
However, Kriel is unlikely to be paired with Burger Odendaal in the midfield. Odendaal has suffered a collarbone injury and while he flew to Wellington with the team medical staff were not confident he would be fit to play.
Also available will be lock Jason Jenkins who had a quad injury. Hooker Schalk Brits has come through his concussion protocols but was suffering the 'flu and would be given time to recover from the illness before selection was made.
The travel disruption forced a late rejig of the Bulls' preparation. They had hoped to leave South Africa on Sunday but the Sanzaar travel office said they had to wait until Monday.
Coach Pote Human told South African media outlets they couldn't help their travel circumstances but he was confident in the Bulls' chances.
"We will have a little run, and a captain's run on Thursday and then Saturday the game. You can't do anything more now, it is just mental. Get the guys fresh and get them relaxed, and you know, focus on the game.

??? @Hurricanesrugby putting in the work! Are you backing the Canes to get past the Bulls on Saturday night? ??‍??

??? https://t.co/4ea8XzIuG8#RaiseTheStakes pic.twitter.com/9diIhnc5bb— Super Rugby (@SuperRugbyNZ) June 19, 2019
"That's the game, we can't change anything about that, so we do make the best out of it and focus on ourselves.
"We will have to get the guys ready psychologically for this one because it is going to be a huge battle out there but we will be ready.
"If the forwards can peak like they did on Saturday and be physical, and then we have very good backs with Jesse [Kriel] back it will be a boost to the side," he said.
The Bulls had plenty of hard work before their delayed departure to Wellington and he was sure that would help the side.
"We can just play the way we want to play. They are a very good side and have the most wins in the competition so far, so it is going to be difficult in Wellington.
"But, luckily, we have confidence after our two games in New Zealand against the Blues and Highlanders and also the great win we got on Saturday will help the guys.
"From the start of the competition, I said it will only be a great competition if we win the competition.
"We have a ticket now for the quarterfinals and we must use it. There is no motivation needed. If you're not motivated to play the Hurricanes in Wellington you don't belong here," he said.
?? With four New Zealand teams in the playoffs was there ever any reason to panic? Find out what @PiriWeepu thinks on this episode of Extra Time! pic.twitter.com/PqUCUbhNtk— Super Rugby (@SuperRugbyNZ) June 18, 2019