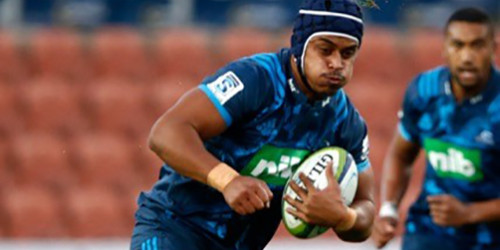 Lineouts are the 24-year-old product of Kelston Boys' High School's speciality but his ability around the field makes him an ideal team player, something the Blues have been trying to develop in Investec Super Rugby.
"It's been awesome to get an opportunity, especially at this level and I'm enjoying it so far," he told allblacks.com.
---
STATCHAT: INVESTEC SUPER RUGBY IN NUMBERS
---
He has been around the Blues environment for two seasons now and while confined to only one appearance in 2016 off-season developments led to his being ever ready to take whatever opportunity that came along.
And opportunity came from an unlikely source in terms of his overall career, the success North Harbour enjoyed when winning last year's Mitre 10 Cup Championship. So long the under-performers in the second tier of the national provincial championship, North Harbour found their winning groove last year, played some entertaining rugby and benefiting from Cowley-Tuioti's emergence at lock.
The win was a result of a team ethic, and good leadership from within the group that soon had everyone in behind the side.
"We had a good culture going on and I think that changed the way we performed and the way we got the wins as well. We were a much tighter group and everyone was open with their opinion which I think was the major difference from other years," he said.
The side had started well with a close win over Counties Manukau, but then lost their next two games to Waikato and Wellington. They beat Manawatu but lost again to Otago in Dunedin. However, once their attack kicked in against Southland the confidence that ultimately carried them through to success, and away wins over Wellington and Otago in the finals, came to light.
Round 4 of #SuperRugby provided some fast-paced action, but which New Zealand team do YOU think scored the best try?#SuperBoomBoom pic.twitter.com/rSfFmz6mHH— Super Rugby (@SuperRugbyNZ) March 19, 2017
Apart from a blow out loss to Canterbury, the losses were all close affairs which highlighted the strength of the side's defence.
"It came down to the boys wanting to play for each other, and that was the major difference from other years," he said.
"Being in my second year with North Harbour, it gave me more confidence especially with the boys who were there believing in me, and even the coaches, and that helped me perform better."
It helped also that coach Steve Jackson had a locking background that he could pass on but even better, he felt, was his liaison with Chris Vui and the work they were able to do in the lineouts.
"I had his back and he had my back and I think that was important and having 'Jacko' was helpful because whatever we came up with he backed us," he said.
"To be able to play at a higher level, at Super Rugby level, you are always on edge and when you are on edge you are always playing at the top of your game and I think that has given me a boost as well," he said.
And he has concentrated on taking the opportunity he has been given and not letting it go. Central to that is achieving his role in the lineouts and if he can do that the best he can he is confident the coaches will keep providing the opportunities.
It didn't come much tougher than meeting a Crusaders side last week in Christchurch with three All Blacks locks, and an All Blacks tight five but he was excited by that, and the chance to test himself against the best.
The biggest lesson was team related about the need to play for the full 80 minutes.
"The boys were pretty disappointed last week but we have to make sure we get straight back on the horse and get a win this week," he said.
"The boys are feeling more confident and we've just got to stick together, stay tight and work hard to get the win."
Getting that win will involve another challenge to test any lock's appetite – the Bulls, traditionally one of the biggest packs in South Africa, at North Harbour Stadium
FAN SNAPS! Make sure you join the fun in the stands for the next round of #SuperRugby!

TICKETS: https://t.co/LdJdt7tc56 pic.twitter.com/EfjiUajgP8— Super Rugby (@SuperRugbyNZ) March 20, 2017