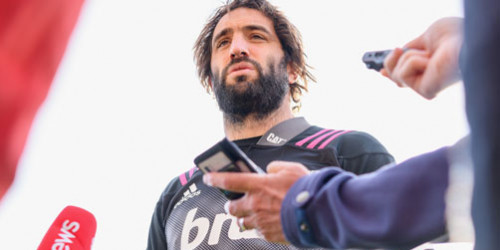 Ryan said the side's training on Thursday had been its best in three years. There had been no changes to the side that beat the Highlanders last week and there was some cohesion in the team and he was looking forward to the challenge.
It was the first time in a long time that they had been able to field the same starting XV.
There was good confidence in the side but they were aware they needed to go up another gear this week.
Ryan said he felt the Hurricanes forward pack had not received a lot of credit for what they had achieved this year and the Crusaders had a lot of respect for them.
"They've done well. They're in the finals for a reason. Ardie's [Savea] been in unbelievable form, [Dane] Colesy's coming back and he's playing some nice rugby too. They'll be right there and they'll want to get in our face, they'll need to," he said.
Ryan was happy with how the scrum had settled, especially since tighthead Owen Franks returned and the effort against the Highlanders was great reward for the work he put in to returning to the side, not only in his scrummaging but in his round-the-field play as well.
Captain and lock Sam Whitelock said: "We've trained pretty well the last couple of Thursdays and a couple of boys got cut and needed a couple of stitches which just shows the intensity was there.
"This is part of the season everyone wants to be involved in. You win, you stay, you lose, you're out.
"We're against a very good side, the Hurricanes, we know them pretty well just because we play against them quite a bit and we play with a lot of the guys in different teams so it's going to be an awesome game and I'm sure the game will live up to the hype," he said.
Whitelock said an important element at this stage of the season was acknowledging that whatever the sides had done throughout the year was critical both for the Crusaders and the Hurricanes.
"They've got threats right across the board, you can name them one to 15 and also their bench. For us when we play we hope to nullify their strengths and put them under pressure. But they're classy players, they're good for a reason and they get that every week so hopefully our plans will nullify that," he said.
All teams looked to find elements in their opponent's play that they could turn to their own advantage and Whitelock said it would be interesting to see what ideas both teams had and that should make the game an interesting one for spectators.
Whitelock said he felt he was starting to reach peak form, he hadn't played as much rugby during the season as he had in other years and was feeling better for that.
He said he felt the All Blacks' management policy on players during the campaign had helped all sides keep their squads a little fresher and players were hitting their best now, both in the Crusaders and the Hurricanes.