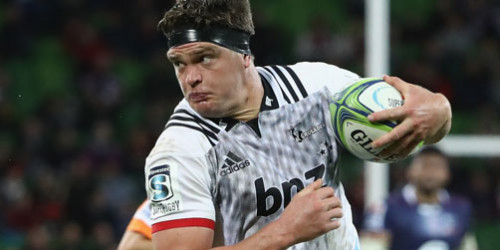 Crusaders coach Scott Robertson said the Rebels had been courageous for a long period of the game and made use of the opportunities the Crusaders created for them to stay in the contest in the first half.
"At halftime our plan was to hold the ball and put a lot of pressure on them to make tackles and we had a little more ball in the second half and managed to score those tries," he said.
At halftime the Rebels had made 80-odd tackles compared to 20 by the Crusaders and they knew that would cause them to tire so they would create opportunities which is what happened in the third quarter.
Robertson said the defensive play in the time that flanker Matt Todd was in the sin-bin was a key part of the game. The pack, with only seven men, had stood up under pressure in their own 22m area and they had made some effective reads of the Rebels' backplay attempts.
Improving the side's discipline in the second half had also been a boost for the Crusaders, allowing more continuity in the play and contributing to the tries they scored.
Robertson said it had been great to spend time with the NRL club team the Storm and their coach Craig Bellamy during their Melbourne visit. Bellamy had also been in the Crusaders' coaching box during the game and had also joined them in their changing room after the game.
"You've got to be able to learn, and it goes both ways so it's a great connection for us," he said.
He said Bellamy was a coach who really cared about his players and who had some original ideas and it had been beneficial spending time with him.
Sam Whitelock said no matter who players talked to from other codes there was always something to learn and often also confirmation of what the side was doing was on the right track.
"We're always trying to learn, no matter who we can learn off," he said, adding that he often talked to the referee after a game and asking if there was anything he saw.
"He always gives a pretty, straight-up answer, he gets the best view out there so we're always trying to learn, always trying to get better," he said.
Whitelock said indiscipline had been a feature of both their games in Australia and it was something they would be addressing back in New Zealand in their upcoming training.