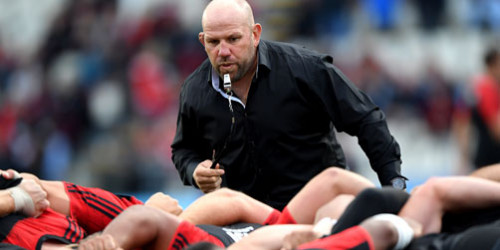 The Crusaders, who face a Sharks team with a win at the weekend over the Waratahs on their Australasian tour, and a good record in New Zealand in recent years, took a hammering from referee Paul Williams in the scrums and Crusaders forward coach Jason Ryan got Cron along to assess how the scrum was performing.
---
"I just wanted to make sure we're getting everything right. He is the best in the world, so why not invite him down here to have a look at what we're doing and make sure we're on top of things," Ryan said.
Frustrated by issues that hadn't manifested themselves earlier in the season, Ryan was reluctant to delve too deeply into the issue.
"There is probably a lot I could say but best I don't. Our mindset is we want to get the ball out and give it to [wing] Sevu Reece and score some tries. Some teams want to get three points and penalties.
"What's important for scrums is it has got to be laid out right from the start…and it's said in the sheds by the referees and it's got to continue through to the game. In some cases it wasn't, in some cases it was. But it did get better at the end of the game," he said.

STANDINGS | The @Highlanders are back in the top 8?. #RaiseTheStakes pic.twitter.com/O7pAJXXx4D— Super Rugby (@SuperRugbyNZ) April 29, 2019
Franks' replacement in the tighthead role Michael Alaalatoa said Cron had applied some drills that the pack didn't do last week ahead of the Lions and he was confident that would help them against the Sharks.
Buoyed by their win at Parramatta, the Sharks will have taken a confidence boost although they have tended to be an up and down performer this season. But, on their day, they can be as vigorous up front as any side in the competition.
They dealt to the Lions 42-5 in Johannesburg a month ago and know they face a Crusaders pack without their world-class tighthead Owen Franks. Also out, on All Blacks' leave will be captain Sam Whitelock and mid-field general Ryan Crotty.
The All Blacks front rower had been having issues with a right shoulder injury and it was finally revealed as a small muscle-tear that will have him out for up to a month.
Ryan said: "The good thing is it doesn't require surgery, so it will be a good rehab process.
"It's obviously a relief for everyone. It was touch and go there for a bit. Get him back in a month, all going well. He's got a good rehab plan for the next four weeks, and all going well that's when he will return to play."
STANDINGS | The @Highlanders are back in the top 8?. #RaiseTheStakes pic.twitter.com/O7pAJXXx4D— Super Rugby (@SuperRugbyNZ) April 29, 2019