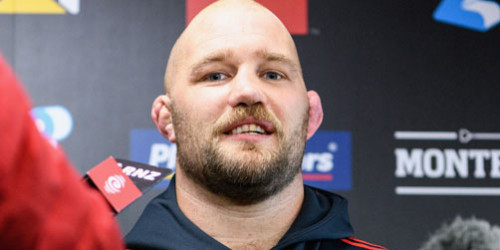 Tighthead prop Owen Franks said he believed the Highlanders' scrum was one of the best in the competition and he was looking forward to a genuine tussle up front.
He was delighted to be finally able to contribute to the side having to site back and watch during his recovery from a shoulder injury.
---
QUICK TAP: HURRICANES TO PLAY STRENGTHENED BULLS SIDE
---
Franks said as soon as he got the injury his mindset was to get himself ready as soon as possible to return and to be able to be able to contribute as soon as he got back on the field.
He never had any doubt he would return before the end of the campaign.
Franks said he was pleased with the outcome in his recovery and avoiding surgery had been a bonus. He said there had been a decent tear in the muscle and it had been a case of letting things settle down while keeping training and allowing his strength to build up again.
He said most players contended with niggling injuries and it was only when they were forced out of the game that the public noticed. But having suffered an Achilles tendon injury and a dislocated elbow earlier in his career he knew what rehabilitation was all about.
The shoulder injury left him unable to bind at scrums.

?? Owen Franks is back for the @crusadersrugby in their home quarterfinal against the @highlanders on Friday night.

He'll bring up his 150th for the Crusaders! Richie Mo'unga pays tribute to his team mate and extended family member ... pic.twitter.com/4WBXYlWOL2— Super Rugby (@SuperRugbyNZ) June 20, 2019
"I tried to shake it off, I thought it might have been a stinger or something but when I went to bind I felt pretty sloppy and just a whole lot of pain shooting up my arm," he said.
The rehabilitation work had left him back where he was before the injury, if not a little stronger, he said.
"The most frustrating part is day to day, knowing you are not contributing on the field the way you want to," he said.
Hooker Codie Taylor who returns after a broken finger said he thought the injury, originally, was just a dislocation but it turned out to be a clean break which required him to be out for four weeks.
He said it was frustrating missing out on playing because he felt a finger would be the last thing to prevent him playing.
"This year has been a bit stop-start for me but I guess the benefit of that is being able to be at home with my family and also to condition myself. It feels like I've been doing a bit of pre-season over the last month. I feel refreshed in terms of the body so I'm excited to get back out there on the field.
"Finals footy is different, it doesn't matter who you play. You've just got to front up and get the job done, so we're preparing really well for a Highlanders team who have come off a bloody good win so they'll have a bit of confidence so we've got to go out there and do our job up front.
"We know them really well and we know they've got a lot of heart and they are going to fight for 80 minutes. We've seen that in the past in the last couple of years against this team so for us it is nailing our game plan, doing the job up front and hopefully the result follows," he said.
?? Check out Sevu Reece's 13 tries so far in 2019. Do you think he can continue this form into the playoffs and break Ben Lam's record of 16 tries in a single season?

? Fri, 7:35pm
?? Orangetheory Stadium, CHCH
?? https://t.co/Ym0u0yeLm5
?? SKY Sport NZ
?? #CRUvHIG pic.twitter.com/fHAMF4UUps— Super Rugby (@SuperRugbyNZ) June 19, 2019