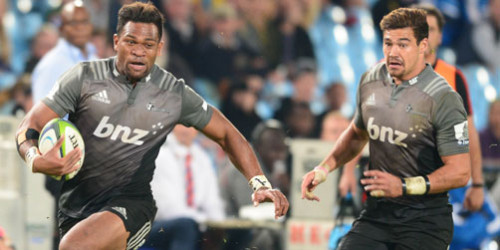 Things have changed a little since last year with the Crusaders unbeaten in 2017 and the Hurricanes still in the hunt if slightly off the pace.
---
QUICK TAP: BLUES READY FOR HURT CHEETAHS IN AUCKLAND
---
But Crusaders coach Scott Robertson was well aware of the anticipation that had built up around the game. It was a constant source of discussion wherever he went in Christchurch this week.
The Crusaders would be approaching the game in their usual style.
"You can't tighten up because of the opposition, it's the opposite, you've got to trust your instinct like we have been doing all year.
"It's a bigger stage and probably a bigger outcome so it's even more of an chance to express themselves," he said.
The Crusaders would play what was in front of them, although the Hurricanes defended a little differently to other sides and having played three South African sides in a row, there was a difference in defensive approach.
"We understand what is at stake and the expectations on both teams. It's going to be a great game and what Super Rugby needs," he said.
People wanted to see the best players in action and Hurricanes first five-eighths Beauden Barrett was one of them. He had been providing some good outcomes from his tactical choices and had been working well with his younger brother Jordie.

Its been 4 weeks since the last Kiwi derby, and @crusadersrugby are ready to host @Hurricanes?Rugby!

TIX: https://t.co/k9Qpk3kfBb#CRUvHUR pic.twitter.com/CIvwzxnw7p— Super Rugby (@SuperRugbyNZ) May 10, 2017
Robertson had coached the younger Barrett with Canterbury and said while he had physical qualities, it was his maturity, his reading of a game and his ability to deal with pressure that was 'incredible' and he had made the step up to Super Rugby seamlessly, he said.
The Hurricanes had a good forward pack and a good set-piece and it was a 'helluva match up' with some good players involved so it would be a good contest, he said.
"They're a creative side and they have got a great skill set that can take
any opportunity in front of them so we have got to be on for the whole game. We understand there are big swings in games from the quality of players they have got and they can just rip things open at any time so we're well aware of the opportunities they create.
"It makes it exciting and it is a bit different to what we have played in the last few weeks," he said.
Robertson was also mindful of second five-eighths Ngani Laumape who had been very professional in his play this year, he had been very consistent and it would be a good match up between him and Ryan Crotty.
"They'll look to dominate in the contact area, they're not passive at all and they put a lot of pressure on you," he said.
All Black Israel Dagg is set to play club rugby in Christchurch on Saturday in anticipation of a return to selection consideration for the Crusaders.
Dagg would have to perform, especially as David Havili had been handling the fullback role so well, especially in terms of positional play. But Robertson said it was good to have depth and Dagg knew what the situation was.
"He's worked as hard as he ever has so that when he's back he's on form. We understand there's some big games ahead for us as the Crusaders and the All Blacks. He'll be right there and we trust him and he'll get an opportunity in the next few weeks I'm sure," he said.
FLASHBACK: Christian Cullen makes a break for @Hurricanesrugby against @crusadersrugby at Napier's McLean Park in 1998.

?? = @GettySport pic.twitter.com/MCObdcfp9L— Super Rugby (@SuperRugbyNZ) May 11, 2017