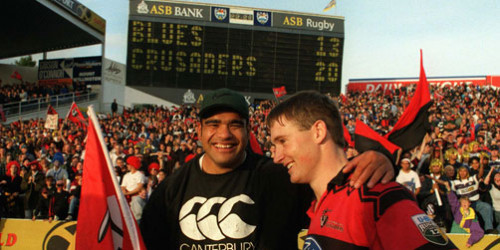 While some sides would be battling to avoid the complacency associated with already being qualified, the Crusaders have their reputation under scrutiny from some of the original members of their franchise.
---
QUICK TAP: INVESTEC SUPER RUGBY CHEER GUIDE - ROUND 19
---
Coach Scott Robertson, a foundation member of the Crusaders, highlighted the attendance of the first side to win the Super Rugby competition on Saturday as all the incentive the side needed to perform well.
"We've talked about why this game is important for a number of reasons around the 20th anniversary since we won it in 1998 and 40 odd players and management are coming to a reunion this weekend," he said.
"It was the start of an amazing dynasty and it is our job to add to it."
Robertson said it had also been discussed that in the first season of rugby in 1996 the Crusaders had finished last but the majority of the players remained and won the tournament two years later.
A powerful uptake of that had been the knowledge and belief of what was required to be successful.
Saturday's game was also a chance to create momentum going into the finals and knowing the Blues had the potential to be dangerous would keep the players sharp.
Robertson said prop Joe Moody was being scanned on Thursday in relation to his knee and ankle injuries to see what his expected recovery time would be. They were optimistic he would be available later in the playoffs.
Hooker Codie Taylor and lock Scott Barrett were being rested as required as part of their All Blacks' demands.
Israel Dagg was back at fullback for the game with David Havili being rested.
Robertson said Dagg deserved his opportunity. He had been a great player for the side and he was looking forward to taking his chance.
Vice captain, and flanker, Matt Todd said there had been no problem focusing for the game although the side was already qualified for the playoffs.
The management had always been able to emphasise something special about each game and the reunion had been a focal point. Todd said they were looking forward to mixing and meeting the players who laid the foundation for the Crusaders.
But at the same time there was also the task of maintaining standards ahead of the playoffs, even if the Blues would be playing their last game of the year.
"The Blues are a dangerous team. If you give them a sniff they can make it a hard night for you so we've prepared well and we have to make sure we finish the week well," he said.
Todd said the Crusaders squad this year had been the deepest he had been involved with and everyone who had an opportunity during the year had taken it.
That was all down to the intensity of training where those players who did come in were aware of the demands of their role as a result of that exposure.
It's the last home game of the regular @SuperRugbyNZ season so join us this Saturday night as we take on the @BluesRugbyTeam. View the team at https://t.co/Yd8xaF8BgC and buy you tickets at https://t.co/71FAwydejV #CRUvBLU #wewill #crusadeon— BNZ Crusaders (@crusadersrugby) July 12, 2018