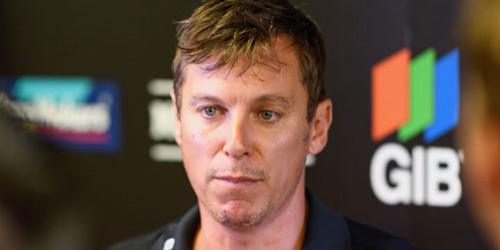 The Lions came back from a first game loss to the Brumbies on their Australasian tour by beating the Chiefs last week, a point duly noted by the Crusaders management during the side's bye week.
---
Assistant coach Brad Mooar said the Lions had looked good against the Chiefs and managed to hold onto the ball for long periods and they had attacked well.
"They're on tour and they look like they've gotten real close as a group and enjoying playing a running game," he said.
Having captain and No.8 Warren Whiteley back in the side had been a big help for them and he was a talisman for them.

ROUND 1?1? | Get ready for a rematch of the 2018 #SuperRugby final on Friday night! Plus another massive New Zealand derby! What are your picks for the round? ??#RaiseTheStakes pic.twitter.com/DMFcwKlb0p— Super Rugby (@SuperRugbyNZ) April 21, 2019
"I think you can see that whether you are on his team or not. He's even developed a wee kicking game for them, he put in a grubber for a try, that's just a strengthening for them.
"They've got other guys like Malcolm Marx and Elton Jantjies that are doing a great job as you'd expect so it's a really exciting opportunity for us to be playing the Lions in Christchurch again," he said.
The Crusaders would be expecting the Lions to want to make a statement with their lineout maul and with a strong scrum they would look for opportunities to kick into the 22m area to get their driving game going.
But as they had demonstrated in the past the key for the Crusaders was avoiding censure in coping with the ploy.
"You don't give a penalty, they don't get the opportunity to be in there," Mooar said.
"We've done a bit of both sides of the game against them in the past where our discipline has been outstanding and they haven't had the opportunities, and then also the likes of the final last year, when we didn't get our exit game right and a few penalties against us and they had plenty of opportunities early," he said.
However, penalties had been a big concern after the 18 penalties conceded in their last outing against the Highlanders and was something that had been addressed in preparation.
"Our guys are smart people and players and they understand that that's far too many [penalties]. At one stage there, it was six-all in the penalty count and then we had a run of 12 penalties.
"They weren't all for the same thing, that's clearly one box ticked. It's for various things, a few at set piece and then a few in general play. It's really up to us to get that right and not give teams opportunities to get a roll on there," he said.
Rather than putting it down to bad things being done he said it could also be a result of over-enthusiasm.
"Guys are really energised to come in and make an impact for the team, whether they have started or come off the bench. They see a picture and want to make an impact, and it's just a different picture to what the referee has seen or we're on a different role of momentum in the game, if you like.
"There's just got to be a little bit of curbing of that potentially, but also without losing our intent and mindset," he said.
Mooar confirmed that lock Scott Barrett and flanker Matt Todd would be on All Blacks stand down this week.
??? TALKING POINTS | Find out what has got us talking and keep up with all the comings and goings from another exciting round of #SuperRugby.

READ ???? https://t.co/yVZtcO2lWa pic.twitter.com/2RRSvmejLI— Super Rugby (@SuperRugbyNZ) April 22, 2019