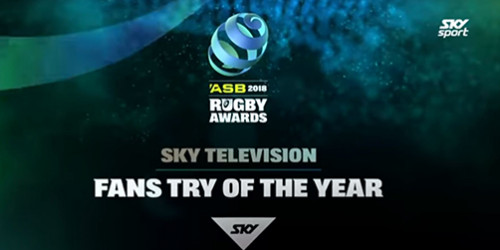 Ten thrilling tries have been shortlisted by a joint SKY TV and New Zealand Rugby (NZR) judging panel as worthy nominations in this year's best chalk-crossing action.

The 10 best tries are:
TRY 1: Michaela Blyde Black Ferns Sevens v England
TRY 2: Richie Mo'unga Crusaders v Highlanders
TRY 3: Chris Halaufia St Peter's College v Napier Boys High
TRY 4: Renee Wickliffe Blacks Ferns v USA Eagles
TRY 5: Ngani Laumape All Blacks v France
TRY 6: Alana Bremner Canterbury v Manawatu Cyclones
TRY 7: Brad Weber Hawke's Bay v Waikato
TRY 8: Jordan Hyland Northland v Bay of Plenty
TRY 9: Kelly Brazier Black Fern Sevens v Australia
TRY 10: Beauden Barrett All Blacks v Australia
New Zealand Rugby Chief of Rugby Nigel Cass said 2018 has been another outstanding year of rugby with exceptional talent on display throughout the season.
"The 2018 Sky Television Fans Try of the Year short-list is a testament to the breadth and depth of talent at all levels of the game.
"This is a great opportunity to re-live some of the most exciting rugby action in 2018, and for fans to take charge of the game and determine which try they think is the best for 2018."
SKY Director of Sport, Richard Last says: "It's been another sensational year of rugby and at SKY Sport we've been lucky enough to be right in the thick of it, up and down the country, rain or shine, capturing some of the best tries you'll ever see.
"From 1st XV rugby to the All Blacks and Black Ferns, this list of tries is just superb. It's going to be tough picking a favourite, and that's why we're leaving it up to you! Good luck to all of the try scorers."
Voting is now open at www.allblacks.com/skyfanstry and closes at 5pm on Friday, 30 November.