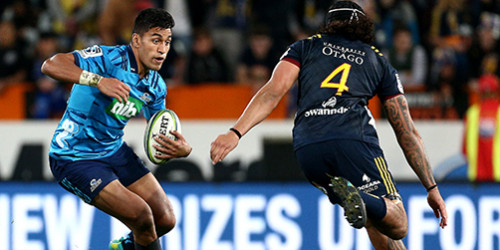 Blues road troubles
Winning away from home has become almost a fixation for the Blues and after their loss to the Highlanders at the weekend it doesn't appear a solution to their inability to win away at other New Zealand venues is going to crop up this year. Their remaining away games in the New Zealand Conference are on May 25 against the Crusaders and on June 15 against the Hurricanes. They also have away games against the Brumbies on May 4 and the Reds on June 7.
---
QUICK TAP: HIGHLANDERS LOOK TO CONTINUE REVIVAL
---
South African road trips coming up
With the Crusaders, Hurricanes and Highlanders still to face the South African legs of their seasons, some interesting statistics reflect the difficulties, or otherwise, sides have had in winning in the Republic. The side with the best record of Australasian teams is the Crusaders, who have also played the most games 53, for a winning percentage of 57 percent – the only side higher than the 46 percent achieved by the Hurricanes. The Highlanders have a 45 percent record, the Chiefs 43 percent and Blues 40 percent of the New Zealand sides. Best of the Australian sides are the Brumbies who, after their weekend 19-17 success over the Stormers, have a 42 percent record. The Waratahs are on 37 percent and the Reds lifted their success to 36 percent after they beat the Sharks 21-14.
Expect the unexpected
It shows just how demanding the Investec Super Rugby competition is on sides when many of their coaches are starting to talk about 'grit, determination and emotion'. Perhaps it is due to it being a Rugby World Cup year, or maybe it is something to do with the events through which the tournament has woven its way this year – Christchurch's mosque attacks and the resulting support activities, Israel Folau's twitter attack, changes in the Super Rugby schedule, players signing overseas contracts, Test players needing to be rested and the usual injury concerns which put pressure on players stepping in. Whatever, there has been a lot more extraneous activity which must have put pressure on the ability to remain totally focused on the rugby. As a result it shouldn't be totally surprising that results have been more up and down than usual. There's no doubt Super Rugby is a demanding competition and given what has happened so far, it is clear there is a lot more out of the ordinary action yet to unfold.

ROUND 1?1? | Get ready for a rematch of the 2018 #SuperRugby final on Friday night! Plus another massive New Zealand derby! What are your picks for the round? ??#RaiseTheStakes pic.twitter.com/DMFcwKlb0p— Super Rugby (@SuperRugbyNZ) April 21, 2019