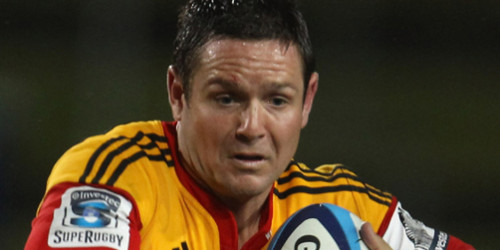 Delany has been whisked over from Japan after a first five-eighths injury crisis which sidelined Colin Slade and Lima Sopoaga for the season and lefty Chris Noakes, who himself is struggling with a groin strain, as the only reasonably fit No.10.
"It was certainly not something I was expecting and I couldn't turn down the offer when it came," he said. "I was all set to go on holiday and catch up with a few friends. I was set to go to the States and Las Vegas but that can wait."
Delany, 29, has been busy swotting up on the Highlanders moves and game plan since he arrived in Dunedin.
"It has sort of felt like being back at University, learning all the new moves, but the guys have been really helpful.
"It's been a bit of a process getting clearance but I'm available now and I want to get out there and roll up my sleeves. My Japanese club Panasonic [Wild Knights] have been good and they're keen for me to be a part of the Highlanders."
Delany played 10 games for the Highlanders in 2008 and he has noticed a difference since his return.
"The set up here is awesome now, the boys have made me really welcome and it's good to be back. I'm looking forward to testing myself in Super rugby again and I want to help out as much as I can."
Delany, who played one Test for the All Blacks in 2009, is an accomplished first five-eighths who played 61 games for Bay of Plenty between 2005 and 2010 and 28 matches for the Chiefs between 2009-11.
The question is how long it will take him to re-adjust to the pace of Super rugby in what is a pivotal position.
Delany said the standard of rugby in Japan was surprisingly good. His team, which had new Otago coach Tony Brown as its backs coach, was beaten in the two national finals by Suntory, who are coached by Eddie Jones.
"The standard was better than I expected and teams played a good brand of rugby," he said.
His team-mates included Jacque Fourie, the Springbok centre.
Delany said the Highlanders had every reason to be wary of the Blues on Friday night.
"I haven't been on a winning side against the Blues. It's pretty important in the context of the season that the boys get up this week. I don't want to turn it into too much of an occasion but we want a result.
"If we don't turn up and play our best, it will turn into an arm wrestle and we will struggle. The Blues are very unpredictable. We know they've got some very good players throughout their team."
Loose forward Hale T-Pole has also been drafted into the Highlanders as cover for injured flanker John Hardie.
T-Pole, 32, a former Tongan international, played 19 games for the Highlanders between 2004-07 and has spent the last four seasons playing for the Ricoh Black Rams in Japan, the same side for which fellow Highlanders Tamati Ellison and James Haskell played.