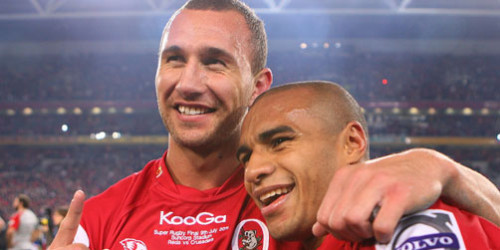 Cooper, who was dropped from the Reds squad by coach Brad Thorn last year, said he felt he benefited from a year out of Super Rugby.
---
QUICK TAP: 19 PLAYERS TO WATCH IN 2019
---
He was looking forward to rejuvenating his career with the Rebels and linking up with Genia.
He said he had great memories of playing with Genia but they were both looking to the future in order to create new memories.
"We've both hit our 30s now, so the memories that we're able to create in our younger days, they're some special memories and no one can ever take those away, but being able to get the opportunity again to create some new memories, I'm really excited about that opportunity," Cooper told rugby.com.au.
Rivals in their earliest years in Brisbane they helped build the Reds into a Super Rugby-winning combination in 2011.
"When you build a relationship and a mutual respect for someone, it's a hard thing to lose," Cooper said.
"This guy next to me [Genia] has had some great success throughout his career and I've been very fortunate to be a part of a lot of that and also some of it I haven't been part of. For me, it's like watching a brother go out there and have success in their chosen field," he said.
It was like seeing family members do well in their sport and life outside of rugby.
Genia said of their combination, "We both see the game in a very similar way and respect the way we see the game, but also there's trust.

Super Rugby is back! Round 1? of #SuperRugby kicks off in one month, who are you picking to take it out in 2019? ??

Get your 2019 club memberships here ?? https://t.co/LdJdt7tc56 pic.twitter.com/SchSAAvm5X— Super Rugby (@SuperRugbyNZ) January 14, 2019
"There's plenty of times we played together where we've had huge blow-ups on the field and then you just have a laugh about it afterwards because I know he genuinely wants what's best for me and the team, and likewise I want what's best for the team.
"It's all just built around success and, from my perspective, a genuine great admiration for the way he plays the game and the way he sees it and then through that just a desire to want to play with him," he said.
Genia's goal for the Rebels were simple.
"I want to win. My desire to win and be competitive and win, it all has never changed and it's really good group of people.
"The thing I've really enjoyed being here last year and then coming into this year is just good people.
"Everyone wants to work hard, everyone's on the same page, there's no ego, no pork chops or people who carry on – not just the playing group but the organisation.
"It's just a place where you can come and can work and be happy and want to be the best that you can possibly be. That's really conducive to creating a winning environment," he said.
Hey Landers fans! Not long until the season kicks off and you won't want to miss seeing your @Highlanders in action!

2019 MEMBERSHIPS ?? https://t.co/VnAIYX1s0e#SuperRugby pic.twitter.com/UlwcAWwXYH— Super Rugby (@SuperRugbyNZ) January 15, 2019