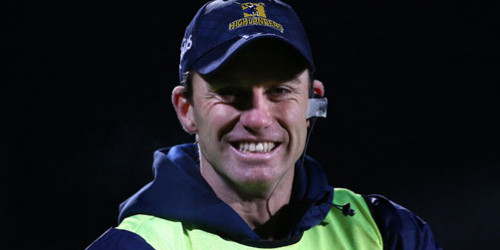 Assistant coach Mark Hammett said the Highlanders had come right at the best time of the season and had done well to come through the mathematical embroglio to secure their playoffs chance.
---
QUICK TAP: SEVU REECE CROWNED ROOKIE OF THE YEAR
---
Hammett said the management gave themselves a chance of making the playoffs and had worked hard last week to ensure the players had to best chance to put themselves in the contest.
He had been up early to learn their fate on Sunday morning and to get into preparing for the quarterfinal.
There were hopes that captain and fullback Ben Smith would be available for the game. His hamstring injury was close to seeing him play against the Waratahs at the weekend but he didn't quite make it. He was feeling better this week than last so there was a good chance he would be available.
The key to Highlanders hopes would be playing the game they know they are capable of.

?????? #RaiseTheStakes pic.twitter.com/bF3DLjgaj7— Super Rugby (@SuperRugbyNZ) June 17, 2019
"We know our style. We always like to be innovative and bring something new, not because it's part of winning the game but it is really invigorating for the players at this time of year," Hammett said.
"We have got a few things we want to do this weekend and concentrate on how we want to play.

"We want to get up there and do everything we can and that starts with everything we do. We know that they are a good team, but we also know if we put things together we are a good team as well.
"We have noticed in the past couple of games we have lifted.
"Certainly against the Bulls last week defensively we raised it, big time. On the weekend against the Waratahs it was probably the best it has been. I thought we added probably a bit more precision to our attack in pretty tough conditions.
"We feel like from a perspective of where we want to play and where we want to get to, we are getting closer.
"We are really focused on how we want to play the game. We know our style and we like to be innovative and bring something new," he said.
In finals rugby, the Highlanders had learned that big moments were important and the planning was focused on making sure the side looked after those big moments. That included exiting their own half which they could have done better at times this year, he said.
"We prepare differently right throughout the year for different matches. We have different motivations to stimulate the week. It is different [this week] but not because it is a quarterfinal. It is different because it is how we go about our week."
The Highlanders did not see themselves as the underdog in spite of their 17-43 loss to the Crusaders in their only other game of the year.
"We are not feeling like that. Of course, we respect them and they deserve their position. We really want to express how we play and what we do," he said.
But in that game they had spent a lot of time in the Crusaders' 22 without getting the reward in points.
"We've looked at that. They've changed as a team, we've changed as a team but there were positives to take out of that game," he said.
We'll see you soon Christchurch! Public sales tickets on sale Tuesday ?? #FinalsFooty #LandersOnTour #HighlandersANDyou #CRUvHIG pic.twitter.com/O7krNnnDoy— Pulse Energy Highlanders (@Highlanders) June 15, 2019