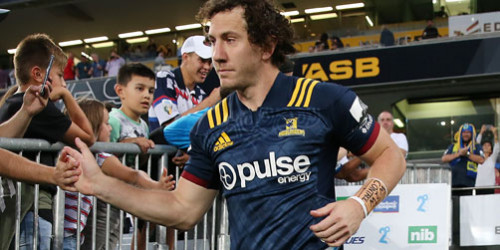 Coach Aaron Mauger said as the team comes off the bye last weekend following their away loss to the Blues that the midfield selection was based on the experience the Teihorangi Walden and Richard Buckman brought.
---
QUICK TAP: HIGHLANDERS v HURRICANES MATCH PREVIEW
---
At first five-eighths Marty Banks had shown good form over the last three or four weeks while Josh Ioane would add some spark off the bench later in the game.
Wanting to concentrate on what the Highlanders could control, Mauger said the Hurricanes had not been too far off their game against the Crusaders when they had just come up against a very good side.
"I'm sure they'll be hurting from that so we expect them to come down here and they'll be fully charged and ready to put on a good performance," he said.
Mauger said it was great to have midfield back Rob Thompson back in the mix. He had worked hard over the six weeks he had been out with his ankle injury. He had been close to starting but they decided to start him from the bench and his selection reaffirmed the competitiveness of the side's midfield.
The side would be without the experience of halfback Aaron Smith and wing Waisake Naholo but that opened up chances for others and Matt Faddes who had been waiting for an opportunity and after recovering from an injury playing for the Bravehearts was looking forward to starting.
THROWBACK | The @Highlanders v @Hurricanesrugby blockbuster clash is just around the corner, so we're taking you back to this classic match from the 90's. Do you remember this match?

??? Get your tickets to this Firday night's match here ?? https://t.co/GJn2Wc3FrH pic.twitter.com/u8TW65M1E9— Super Rugby (@SuperRugbyNZ) April 3, 2019
Kayne Hammington, who will start at halfback, and Folau Fokatava, who will be on the bench, had been working hard with Smith in preparation for the game.
Lock Tom Franklin was looking to make a statement having been given his second chance to start after a lengthy wait for his opportunity. He was given a slower start to the campaign after returning from Japan when the coaches insisted he have a two-week break to freshen up.
"Although it can be frustrating you've got to take it as a positive and enjoy the rest and come back firing and bring another level of energy when you get the chance," he said.
Franklin said they always looked at the Hurricanes as an explosive pack, who were hard-working and they were never going to take them for granted.
"We've just got to focus on ourselves and make sure we show up and fully deliver because it is going to be a tough battle," he said.
The Hurricanes would feel they had a point to prove, especially after some of the comments about their pack, and having been in that position themselves the Highlanders knew what to expect. It was like backing a dog into a corner only to have him come out fighting with all guns blazing, he said.
Here's #YourLanders to play @Hurricanesrugby on Friday night at home under the roof @ForBarrStadium - get there to support the team in this round 8 @SuperRugbyNZ clash #standingtogether #highlandersandyou #HIGvHUR pic.twitter.com/teW3SEGGIs— Pulse Energy Highlanders (@Highlanders) April 2, 2019