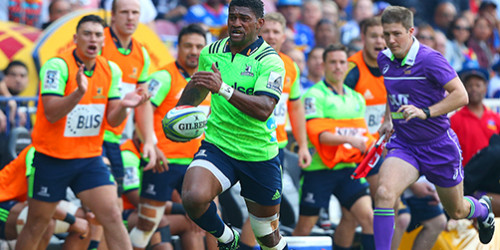 Two losses in South Africa, 29-38 to the Lions and 22-34 to the Stormers, made the task more difficult but such has been the up and down nature of the competition they cannot be ruled out. The bye also makes it harder but after the latest round of games they were only two points out of the top eight.
---
Coach Aaron Mauger said management were proud of the side's effort.
"We were behind for most of the game and were chasing the Stormers and the reason for that was they were more physical than us. They beat us around the carry, the breakdown and ultimately that was the difference," he said.
"It wasn't for lack of effort on our side. The Stormers were able to stop our momentum. I thought when we executed our game plan we moved them around, we looked pretty good, we scored some points. We just didn't do it often enough.
"I don't think we were as smart as we could have been in that first half. We carried into big men and allowed them to win that physical battle. Once we used our attack-kick a little more we got some rewards."
Captain Luke Whitelock said they wanted to take some points away from the game but they didn't quite execute at times.
"We didn't keep that scoreboard pressure when arguably we should have finished a few which would obviously keep a bit more pressure on the game but we just really weren't good enough tonight.
"We knew the Stormers had great defence, the way they spread the field, they look to hold players up. We knew that but we didn't quite move the ball enough. When we did we managed to find some gaps and score some points," he said.
It had been a stop, start type of first half especially, which in real time lasted nearly an hour, but while it was noticeable on the field it was the same for both teams, he said.
Mauger said if the Stormers, who have been one of the lowest try scoring teams in the competition, continued to play like they had against the Highlanders they would give themselves a good chance in the remainder of the season.
Responding to a question about whether they had missed All Black Ben Smith, Mauger said he was an inspirational player, a once-in-a-generation type of player who would be missed but they were a squad.
"We back whoever we put out there in the 23 jerseys in those lucky guys to do the job and that was the same going into today's game but it will be nice to see Ben back on the field, hopefully in a couple of weeks time," he said.
ROUND 1?6?

?? Season defining match for the @BluesRugbyTeam
???? @ChiefsRugby and @crusadersrugby clash in Fiji
?? @Hurricanesrugby take on the Sharks#RaiseTheStakes pic.twitter.com/YXCmkidP8K— Super Rugby (@SuperRugbyNZ) May 26, 2019