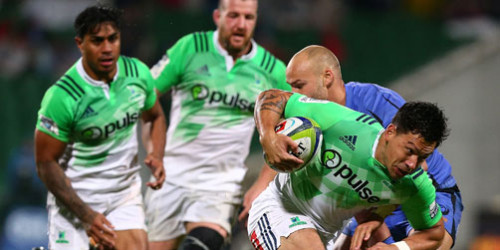 Back home after three wins on the road, two in South Africa and a record win overseas in Perth, the side is also getting back to close to full strength.
---
QUICK TAP: ALL BLACKS CAPTAIN KIERAN READ SIGNS ON UNTIL 2019
---
Hooker and stand-in captain Ash Dixon said all the side could do was control its performance and that would be what they were concentrating on at the weekend.
The three-win tour had been enjoyable but the side was well aware of the challenge the Waratahs would bring.
The side was conscious that Ben Smith would equal Anton Oliver's record of 127 appearances for the Highlanders and would like to celebrate that but they still needed to have their performance attuned.
"We've got to perform really well and back at home is such a big thing so we're looking forward to it," he said.
Dixon had missed a long period of action due to a prolapsed disc suffered during training when taking a blow on the top of his head. He heard a massive crack and then lost feeling from his chest down. It had been a case of being patient and trusting the medical staff while also strengthening the area around the injury in order to be able to play.
While not quite back at 100 percent he was making ground and being able to get back out on the field to play had been a big boost.
3 from 3 on tour for the @Highlanders lads
See ya soon @Lovedunedin ????
??? out Perth ???? #LandersOnTour pic.twitter.com/gZ3fGDMS9E— Joey Wheeler (@joey_wheelz) May 21, 2017
"I'm still trying to find my feet. It was a bit of a shame last week I was a bit sick so I couldn't get back out there but hopefully I'll get another chance this week," he said.
All Blacks fullback Ben Smith and No.8 Luke Whitelock, who missed the Africa tour, will be back in contention for places this week.
Lima Sopoaga, who had his first game in more than two months, had come through his minutes against the Force without incident, had executed his skills and had added some spark to the team, assistant coach Scott McLeod said.
The side was not looking at the points table, they were more concerned with performing well at home against the Waratahs.
McLeod said there were a number of Wallabies in the Waratahs line-up and they were starting to up their individual performances in a bid to be involved in the international window and the Foleys, the Hoopers and the Folaus all played outstandingly against the Rebels last week and that had lifted the side overall.
It would be about the Highlanders shutting down their time and space to minimise their opportunities.
McLeod said the side had used a fair amount of their luck, especially in the first two wins in South Africa and while they had been under pressure the side's resilience came through. But the management were very happy with the Force game, a record win for the Highlanders overseas, because in the past it had been a tricky game for the side.
"We were really clinical, we played to our plans and we executed probably the best we have in any of our games so we were pretty happy with that," he said.
Round 13 of #SuperRugby featured high-scoring encounters, but which New Zealand team do YOU think scored the best try of the week? pic.twitter.com/WTfk0EVMon— Super Rugby (@SuperRugbyNZ) May 21, 2017