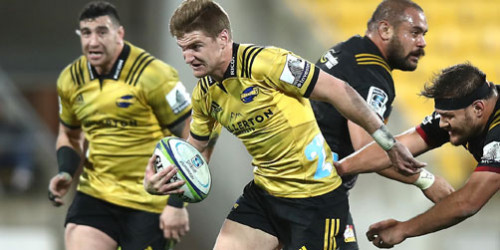 That came down to producing higher levels of intent and physicality and accuracy for longer periods of time.
---
QUICK TAP: CRUSADERS v SHARKS MATCH PREVIEW
---
Boyd said the side went into the game on the back of a good week of training. It had been an interesting experience because the side had qualified for the playoffs six weeks earlier and had 'muddled along' subsequently.
But he said he felt good about the quarterfinal by the time they got to the end of their training week ahead of the game.
The key point in securing the win had been in the third quarter when they applied some defensive pressure and started to dominate some of the collisions and energy had flowed from that.
They had also modified the shape of their attack, and the way they defended, from the game against the Chiefs a week earlier and he felt the subtle changes helped them on the night.
There had been questions asked of the Hurricanes' pack in the lead-up to the game but Boyd felt they had laid a platform in all areas that they were able to play off. And he highlighted Gareth Evans' role on the open side flank.
Boyd said second five-eighths Ngani Laumape fitted the Hurricanes' style of play perfectly and that because of the way the fast line speed had become so prevalent in rugby, the second five-eighths had become a bigger ball carrier than the centre who had become a much more defensive player.
"The guys that are the best 13s [centres] at the moment are very solid at decision-making," he said.
Both Jordie Barrett, whose only kick at goal on the night to convert Ben Lam's try from sideline proved crucial, and Wes Goosen had performed well in the role, which Boyd said was good because both Matt Proctor and Vince Aso were out with injury.
Captain Brad Shields said while it was difficult to tackle the Chiefs when they were running across field, they had applied good pressure wide in their defence and the two intercepts at the start had been a help.
"As Boydy said, some of the big boys really dominating that collision gives you energy and gives you a bit of drive on the field and I think that part of it we did really well," he said.
The front five had performed well and the two locks, Sam Lousi and Michael Fatialofa, had put in some big defensive hits and some effective carries which was exactly what the side was looking for.
"There was a lot of heat put on them but they stood up really well," he said.
pic.twitter.com/2NHZTgxYOT— Hurricanes Rugby (@Hurricanesrugby) July 20, 2018