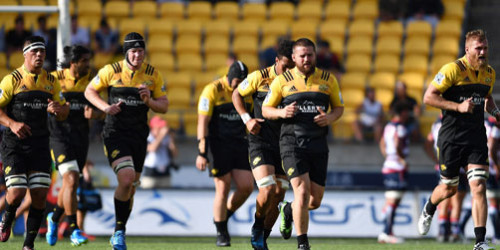 It is the first game against a New Zealand side for them and Watt said they were expecting a more thorough examination this week because the local derbies had become more like a State of Origin game. The Crusaders-Highlanders game at the weekend had been 'fairly brutal'.
---
QUICK TAP: DRUMMOND GLAD THE AGONY IS OVER
---
"The boys love these home games, and they hate losing to each other.
"Our Conference is so competitive they will be fairly valuable points this week too," he said.
While the forwards, his area of responsibility, had been overlooked in all the publicity surrounding the side's try-scoring deeds, Watt said it was the forwards' responsibility to produce quality ball.
"So with the attack we've got, the quicker we can supply the ball, whether it is set piece or phase the better chance those boys are going to have to cut up. I'm pretty happy, the ball's been nice and quick and Beauden Barrett and others had plenty of time to see the space," he said.
The Chiefs had put the Blues under pressure at scrum time and he anticipated the scrum was going to be an important area of the game on Friday.

Brotherly Love...#SuperRugby pic.twitter.com/Y2mZ2oZS5W— Super Rugby (@SuperRugbyNZ) March 6, 2017
While the Hurricanes had not had the intensity of games the Chiefs had against the Highlanders and Blues, Watt said their training meant they did a lot of things under pressure in that area to compare.
But the players were aware of the job ahead and the management hadn't had to remind them because the players were 'so up for these games'.
Things had gone well so far for them but they were aware they were going to have to fight for every inch against the Chiefs.
Wing Vince Aso, who has scored four tries in two games, said the insides were giving him good ball and he had been enjoying being able to cap it off for them.
His preference was to play in the midfield, but if circumstances required he was happy to stay on the wing.
It wasn't unusual for him to play on the end of the line. He had played there in Auckland and for the Under-20s. The major difference was the need to be alert in defence in midfield because there was less time to make decisions.
#Unity ??

?? @GettyImages pic.twitter.com/rFoR8bCC4t— Hurricanes Rugby (@Hurricanesrugby) March 6, 2017