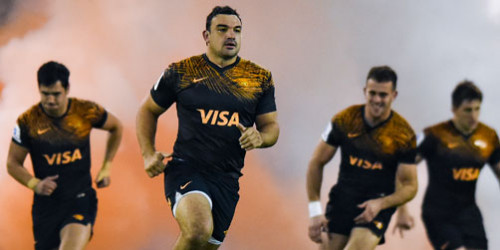 They were in Christchurch to win because they know what it takes to win.
"The Crusaders are the best team of the tournament and have shown that, but nothing is certain in sport, nor in a final where the head and pressure counts for a lot," Creevy said.
---
QUICK TAP: CRUSADERS SQUAD DEPTH TO BE TESTED IN FINAL
---
"On Saturday the difference will be in the head. We know it is difficult, but we are convinced that we can do it."
The Jaguares' improvement can be measured by the fact they lost their first seven matches against New Zealand teams when they first joined the competition four years ago. But in their last seven they have won five and lost twice.
Creevy, who has played 12 times against New Zealand Super Rugby sides, with Matias Orlando, Emilliano Boffelli, Tomas Lavanini and Julian Montoya, said: "Confronting the New Zealand franchises is special.
"They are teams that we watched and followed when we started in this tournament. Today we are very happy to face them because we do it on an equal footing and we are going out to beat them in the final," he said.
The two sides have met twice before, both victories to the Crusaders, 32-15 in Christchurch in 2016 and 40-14 in Buenos Aires last year.
"Today we know when we face them we do it as equals," he told jaguares.com.ar.
"That shows the growth of our team both in the game and their mental approach. New Zealand teams are always respected but we do not see the task as impossible. The final is 50-50 and Saturday will be a great game," he said.

?? Have you ever seen a team more pumped p for finals footy than @JaguaresARG? #CRUvJAG pic.twitter.com/GjVCz6SEEQ— Super Rugby (@SuperRugbyNZ) July 2, 2019
The Jaguares have developed great support at home and Creevy said the ideal would have been to play the final in Buenos Aires.
"We would have liked to play the final in Buenos Aires, without doubt, because the support of the people was incredible. We have to play against the Crusaders in Christchurch and it's a dream, because they are a team with a lot of history.
"We knew the opportunity to be in a Super Rugby final would come. Maybe, I thought we were going to take a little longer to achieve it and that's why I'm very grateful to be part of this great moment for the Jaguares which has taken so much effort.
"We are in this situation because the maturity in the Jaguares has developed. Each year we learned and grew. Last season we reached the quarterfinals, making an important breakthrough, and the big jump came this year.
"Today there are players who used to be boys and now they have grown up and they lead the team. Everyone knows what their role is in the group," he said.
The rotation of players within the squad had also helped them be at full strength for the bigger matches.
???? Will we see this again on Saturday night?

Grab your tickets to the #SuperRugby final here ???? https://t.co/gNdL2MG1A3 pic.twitter.com/pjvopgjQyr— Super Rugby (@SuperRugbyNZ) July 2, 2019