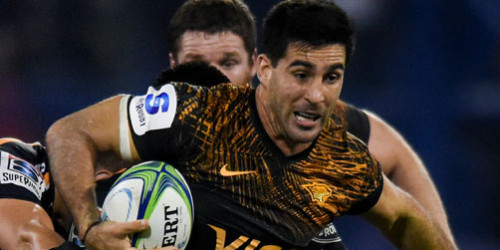 That was when the Jaguares joined the Sanzaar-based competition and while there had been tough times to start with, they had worked hard to make the adjustment to the point where they were now competing in a final.
---
QUICK TAP: SUPER RUGBY FINAL PREVIEW - CRUSADERS v JAGUARES
---
"There were many good things and bad moments along the way," he told jaguars.com.ar.
"The road to here involved the lessons that brought us to where we are today. It was the right road with successes and mistakes. It was a process we had to go through since starting out with first coach Aspirina (Raul) Perez in 2016," he said.
It has been a heady week for the side since beating the Brumbies 39-7 in their semifinal in Buenos Aires last weekend.
"I have been enjoying it a lot. It was all very fast but the whole team is enjoying the feeling. Whenever there are two players together at the hotel they are talking about the game, what the year has been about and the process that got us to this point," he said.
They wouldn't be looking to change the way they played. They would have a strategy for the Crusaders but the preparation was more focused on their own game.
"Our game will be the same as we have played throughout the tournament.

?? Have you ever seen a team more pumped up for finals footy than @JaguaresARG? #CRUvJAG pic.twitter.com/GjVCz6SEEQ— Super Rugby (@SuperRugbyNZ) July 2, 2019
"It is very emotional. We know it's a final and there is not a team that has more desire to win it than us. We talk a lot to our younger players about the opportunity we have.
"Since we finished the Brumbies game we have all been talking about this final. Everyone in the squad and the coaching staff are working so that the processes before the game are balanced so that we can unleash in the game," he said.
"The team has worked very hard. This final is not only for what has happened this year but for the previous four years and also, for what was done even before that," he said.
The team are also aware of keeping their feet on the ground and not getting ahead of themselves.
"If you believe in the processes and in what you are doing you will get results.
"It took us four years to reach the final of this tournament. There is a feeling among some that doing this is a goal achieved. But we know there are kids in children's clubs who are wearing the Jaguares shirts and who identify with us. That is very strong and fills you with pride when you see that happen," he said.
?? Sevu Reece is on the verge of claiming the record for most tries in a season. The current record his held by @Hurricanesrugby wing Ben Lam (16 tries) #RaiseTheStakes pic.twitter.com/GHsBfwe5RP— Super Rugby (@SuperRugbyNZ) July 4, 2019