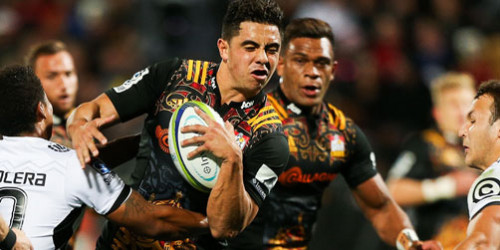 Lienert-Brown, 21, was identified as an up and comer by the Chiefs two years ago and while he was slowly introduced to the Super Rugby side he repaid the selectors' faith by stepping up, especially with the injury problems Charlie Ngatai has faced during the season.
---
QUICK TAP: CHIEFS CHASE SUPER RUGBY TRY SCORING RECORD
---
The former Cantabrian, and New Zealand Under-20 representative said: "My plan at the start of the year was to try and glue down a spot in the mid-field and try and get a good amount of footy, and to play some good footy. Looking back on it, I have really enjoyed it so far," he said.
It had been competitive in the Chiefs environment with Ngatai, Seta Tamanivalu and Andrew Horrell competing for places but he was happy with how much game time he had been able to get during the year to build on the nine performances he had over the two previous seasons.
"It's good to be able to prepare knowing you are going to start each week. It is important because you have to perform week-in and week-out to get that starting spot especially in this team. One performance could put you back on the bench or out of the team, so I guess preparation has been massive for me.
"Whether Charlie was there or wasn't there I was really focusing on competing well and trying to lock down a starting position," he told allblacks.com.
Whether that was at second five-eighths, where he has played most often this year, or at centre, he said: "I'm enjoying getting out on the park so I can't be fussy at all.
"At the start of the year [my preference] would have been 12 but playing 13 I have really enjoyed that. I think with the skill set I have I probably prefer it more at 13 but I have enjoyed 12 as well and I guess playing 12 or 13 I've got to plan each week what I'm going to do and I've got Seta outside me and last week we focused on each other's strengths and setting him up. It was much better than the week before.
"At 12 you've probably got to do more organising and you're probably trying to set up the outsides more than at centre where you might get the ball in space.
"At 13 you've probably got more freedom to do what you want and at 12 you've really got to focus on organising those forwards and getting the ball to width because,obviously, your outsides are relying on you to do that."
The New Zealand derbies had proved great for his development and he looked forward to the regular supply of big games week in and week out that they provided.
"Having that experience of getting regular starting spots helps out a lot and I guess it gives you a lot of confidence and belief that you can perform at this level, so that's been good."
There was a bonus along the way with a chance to play a mid-week game against the touring Welsh side.
"Playing Wales was awesome. To be part of a team that put a performance out like that, it boosted the [Chiefs'] environment a lot. To have our All Blacks not being there was good for the wider squad I guess because now we've got that belief that we can perform at the highest level.
"I didn't feel a 40-7 score was coming but I always had the belief we could do it. We were training hard and we prepped for the game a week and a half out and I think we did believe which was key to our performance.
"When we got out there and got going, and scored a couple of tries, I think it just grew from there."
But there is still the hard work to do to finish the season, by facing the Highlanders, who were equally desperate to finish with a win. The prize for the Chiefs is greatest, as they could win the preliminary competition if the Lions lose in Buenos Aires, which would have a big impact on how much travel the Chiefs had to do during the play-offs.
"It's going to be huge and we've talked a lot about the passion and mana we play with. In the past they've been able to out-passion us but this week that's going to be our main focus and obviously having a good game plan but we're going to have to match the physicality and the passion they bring and we're hoping to better that and if we can do that we'll go good.
"It's been a while since we've beated them so we definitely owe them one," he said.
The Highlanders go into the game having faced the round-the-world trip that the Chiefs endured earlier in the competition. But Lienert-Brown said while it was hard with all the travel being together for two weeks did bring sides closer together.
"We talk about when we come back from trips that we are actually better for it. Obviously you're tired and fatigued but if you don't talk about it and get your recovery right we find we're actually better for it so I don't think that's any excuse really. They won't be fatigued and they'll definitely be up for that game," he said.
Can @ChiefsRugby complete three wins following the June break and finish TOP of the NZ Conference?#SuperRugby pic.twitter.com/1vnlZNFmY6— Super Rugby (@SuperRugbyNZ) July 11, 2016