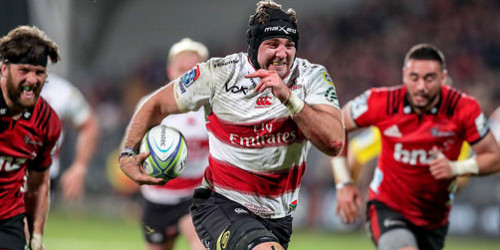 Lions captain Warren Whiteley said he was gutted and it was tough having been beaten three times in a row.
---
QUICK TAP: CRUSADERS STORM TO NINTH SUPER RUGBY TITLE
---
"Today five years ago is when we gained promotion back to Super Rugby. If you think we played in three finals since then we can only be grateful. We can only keep going, keep believing.
"We believe we can do it. We believe we are getting closer. It is tough, man. We are going to keep fighting.
"If there's one thing we can learn from tonight it's that, in finals, defence wins you games," he said.
"The Crusaders showed that tonight. They defended extremely well and capitalised on every opportunity they got.
"We had opportunities…they were just better. Unfortunately, it just didn't go our way.
"This whole week we believed we could win this game and during the game we also believed we were in it.
"It just felt like every time we scored, the Crusaders would score shortly after and I think that's also a sign of a championship side. They defended and defended and defended," he said.
The Lions had given it everything but the outcome was tough.
"That's all you can ask for and we showed a lot of character and heart out there. Credit to the Crusaders…they stopped our mauls, stopped our scrums. I think we had about 70 percent possession…we couldn't have done more," he said.
Of the opportunities they were unable to take, first five-eighths Elton Jantjies' attempt to score midway through the second half was typical. He grounded the ball just short of the line, just as Hurricanes first five-eighths Beauden Barrett had the week before in the semifinal.
"We had opportunities where we were literally inches from scoring," Whiteley said.
"Elton's try…that's talking inches that was the difference. I don't know how many opportunities we had with mauls five metres from their line.
"The opportunities were there and we created those opportunities through holding onto the ball and putting pressure on them. I can only be proud of every individual, because you don't just get opportunities like that against the Crusaders," he said.
Coach Swys de Bruin said he was proud of the Lions' efforts.
"As I said to the guys in the changeroom, the score is one thing and the character and guts is another. I saw character today and what more can you ask for?
"It's just a very good Crusaders side who deserve to be the champions," he said.
Introducing your 2018 #SuperRugby champions, @crusadersrugby! ???? pic.twitter.com/EAxR1LjXlw— Super Rugby (@SuperRugbyNZ) August 4, 2018