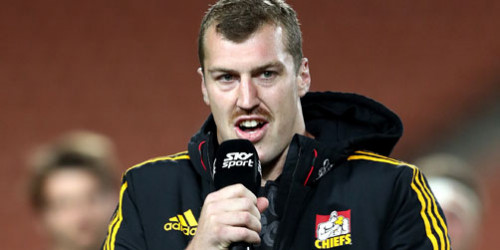 Retallick said at the stage he was at in his career he did due diligence on all the options that were open to him but in the end it was the desire he still had to play for the All Blacks and to hopefully be able to contest the 2023 Rugby World Cup by which time he would be 34, that helped in his decision.
---
QUICK TAP: RETALLICK SIGNS NEW DEAL TO EXTEND HIS CAREER
---
"I love being part of the Chiefs and All Blacks' environment so for me, in the end, this was kind of the best scenario where I can look after my body, spend some time with my family, experience a different culture and still come back and do what I love," he said.
While there was a risk in exiting the All Blacks and having another player step into his spot, he said he had considered that but he felt it would be best for his body to have the time away so that he could come back at the standard, if not better, that he has been at.
He will be playing for the Kobelco Steelers, based in Kobe, where there was a Chiefs link with Wayne Smith and some other New Zealanders involved in the coaching structure.
Retallick said while New Zealand players were well looked after it was a fact that Investec Super Rugby and the Rugby Championship were tough on the body, something that he was aware of after eight seasons in action.
The injuries he had suffered this year were also a factor in him having the break that had been agreed in his contract.

?? Now we know Brodie Retallick's sticking around, we look back and hear his reaction to THAT dummy against Australia last year! #TeamAllBlacks pic.twitter.com/D7Y0A7ouhM— All Blacks (@AllBlacks) June 12, 2019
The agreement had taken some time to reach but it had been agreed as being most appropriate for him. He will be off contract from the end of this year and will return in May 2021.
Retallick said he hadn't looked at playing in Europe. It was always Japan or nothing.
"I wasn't really interested in going up to France and playing that style of rugby," he said.
Rugby in Japan had improved and there were tough games involved, something that he had learned from others who had played there.
"The benefit will be the space between their seasons rather than the physicality of their rugby, clocking out for a few months and while there will still be training it won't be the week-in, week-out of the rugby," he said.
Having seen the sort of money that was offer in Europe he said it was a fair bit different from his first contract with Hawke's Bay in New Zealand domestic rugby.
He said he was more than happy with the value of his contract in Japan.
Retallick did say it would be nice to possibly do what Wyatt Crocket had done and play a couple of seasons of Mitre 10 Cup to ease the transition to a post-rugby life.
"Never did I think I would end up in Hamilton to start with playing for the Chiefs but from where it's gone from there it's been a wild ride but certainly an enjoyable one," he said.
?? When Dad takes you to the office...we bet you are not going to see a more adorable video today.

?? @SkySportNZ pic.twitter.com/AZLGHfQ5TW— All Blacks (@AllBlacks) June 7, 2019