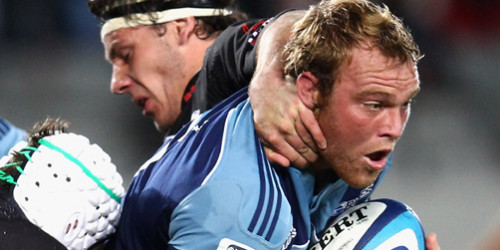 With the side out of contention for the Investec Super Rugby play-offs there was no long term view being undertaken in selection policies but, all that said, it is hard to escape the conclusion that the choice of Luke Braid as captain is definitely a chance for him to gain experience the Blues can use at a later date.
"We identified from his time with us last year, he was players' player of the year, and just within the team that he is definitely a leader," Lam said.
The leadership issue was discussed with senior players Kevin Mealamu, Tony Woodcock and Ali Williams and they had endorsed the choice.
"We know what he brings to this environment and I think it's really going to help his play. He consistently brings out quality performances and this is a good opportunity with the backing of those senior players to give him a run there," he said.
Braid, the 2008 IRB Junior Player of the Year, the year he was part of the New Zealand side which won the IRB Junior championship, will play on the openside of the scrum with his older brother Daniel, another possible captaincy candidate, in the reserves.
Braid the younger's opportunity comes as a result of injury to All Blacks hooker and regular Blues captain Mealamu.
Halfback Piri Weepu has not been given the starting role again while Rene Ranger has been moved from wing to centre. It is a role he had been wanting to return to and his form of the last few weeks made it worth the while to play him there, Lam said.
Benson Stanley moves to the wing while Hadleigh Parkes, who made his starting debut on the right wing last weekend has been named at fullback in the absence of the injured Rudi Wulf.
"One of the things that has impressed us [about Hadleigh Parkes] is that whenever he's played he's a 100 percent man. He just goes from minute one to the end, he's very fit, he's actually got the biggest boots in the team.
"As we saw last week, so many people said 'Where'd you find this Hadleigh Parkes from?' You could see the amount of work he does and he's earned his way through the wider training group, through his time at training, what he does out here and the opportunities that he has been given and taken.
"So when we looked at that back three and what we want out of it myself, Bryce [Woodward] and Jeff [Wilson] he fits that bill for this game and losing Ice [Isaia Toeava] and Rudi we're limited," he said.
It was a risk but with Parkes' skill sets, and the injury problems, it was a time to take risks, Lam said.
Williams returns to locking duties at the expense of Liaki Moli
The team is: 1.Tony Woodcock, 2.Tom McCartney, 3.Charlie Faumuina, 4.Ali Williams, 5.Filo Paulo, 6.Chris Lowrey, 7.Luke Braid (captain), 8.Peter Saili, 9.Alby Mathewson, 10.Gareth Anscombe, 11.Benson Stanley, 12.Ma'a Nonu, 13.Rene Ranger, 14.George Moala, 15.Hadleigh Parkes.
Reserves: 16.James Parson, 17.Tevita Mailau, 18.Liaki Moli, 19.Daniel Braid, 20.Piri Weepu, 21.Michael Hobbs, 22.David Raikuna.