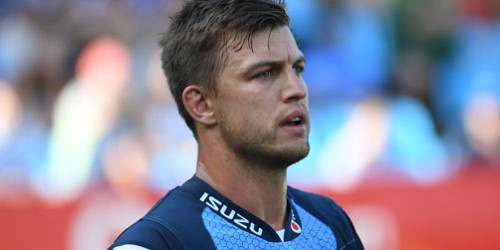 Already having decided to turn first five-eighths Handre Pollard around to come to New Zealand for the game, after he returned to South Africa from Brisbane to recover from a calf injury, the Bulls have suffered more injuries.
---
QUICK TAP: HURRICANES PREPARED TO FACE OBSTACLES
---
Springbok wing Rosko Specman, who scored a superb individual try in the Bulls' draw with the Blues on Friday, has suffered a hamstring injury and has returned to South Africa for treatment.
Also on the plane back home is lock Paul Schoeman, who suffered a knee injury against the Blues.
Travelling to New Zealand with Pollard is lock Eli Snyman.
Already missing No.8 Duane Vermeulen, the Bulls are likely to move Hanro Liebenberg to No.8.
Adding to their concerns is fullback Warrick Gelant. He has suffered a hamstring strain and a decision will be made on his availability on Thursday.
Should Gelant not be available, Divan Rossouw may play fullback with Johnny Kotze moving to the wing. Then they would be faced with whether to play former South Africa Under-20 midfield back JT Jackson or former South African Sevens player Dylan Sage alongside Burger Odendaal in the centres.

Is Liam Squire set to make his return to the footy field? ?

FULL STORY ?? https://t.co/TzkfmZc3tD pic.twitter.com/iqAHwdc0oC— Super Rugby (@SuperRugbyNZ) June 4, 2019
Meanwhile, there has been criticism of the call-up of Pollard to Dunedin. Critics have asked whether being a World Cup year, he should be given a chance to ensure his calf injury is fully cleared. It was claimed the All Blacks would not treat a player like that.
South African writer Rob Houwing said on sport24.co.za that the issue was not that clear. New Zealand had 'formidable' domestic depth as their players tended to remain in New Zealand rather than South African players who looked to play overseas earlier in their careers. Pollard, and several other key Bulls, were leaving the side for northern hemisphere clubs at the end of the season.
"Economic and other circumstances have made for tough times in South African rugby, and the old adage that 'winning is everything' still counts for a lot.
"While they remain in 2019 contention, the Bulls can hardly be blamed for doing everything they possibly can to end the SA trophy drought in Super Rugby – one that stretches back to 2010 when the very same Bulls last won it and drew crowds that simply cannot be compared to the depressingly flimsy attendances of today.
"In asking Pollard to play in the Dunedin crunch, they are simply making a desperate late bid to maximise one of their prime investments while they still can," he said.
When did props learn to pass like this?! Join @PiriWeepu as he looks at all the best moments from the weekend.

FULL VIDEO ???? https://t.co/zf1E3cFqQt pic.twitter.com/z1mJ7ueydu— Super Rugby (@SuperRugbyNZ) June 4, 2019