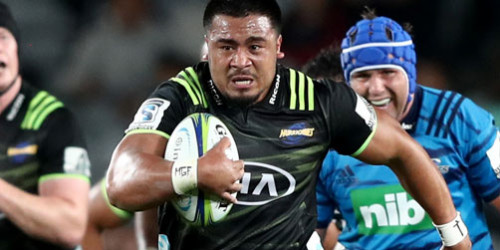 The Hurricanes' scrum was given a working over in the victory over the Blues last week but the strong Jaguares pack would offer another tough challenge.
---
Hurricanes coach John Plumtree was wary of the threat the Jaguares represented. They were a good side who with a bit of luck and the bounce of the ball could have picked up a win in their first tour game in Dunedin, he said.
Dealing with their threat would be achieved by the Hurricanes sticking to their systems. If they managed to defend well that could create opportunities and it was the same if the Jaguares kicked poorly.
"We know our set-piece has to function well enough on the night so that we can get front foot ball," Plumtree said.
"There is some unpredictability about them and that makes them dangerous but there is nothing much we can do about that other than to stick to what we do and wait for those opportunities.

??? ARE YOU NOT ENTERTAINED?

Round 14 of #SuperRugby will ignite when @Hurricanesrugby take on the Jaguares on Friday night.

??? https://t.co/MmuoV6t3ZF
?? @skysportnz pic.twitter.com/b8q7aRfjPk— Super Rugby (@SuperRugbyNZ) May 16, 2019
"If they are playing really well we have to look after that as well," he said.
They will have to do it without the services of first five-eighths Beauden Barrett who has another week of All Blacks' leave.
"It was all planned around Beaudy having this week off. It's got nothing to do with the opposition, it ties in with our second bye week coming up, which gives him a fortnight [off] and freshens him up even more," Plumtree said.
James Marshall has been given the starting role in his place and while he hadn't had as many minutes as Plumtree would have liked that was down to Barrett having being been playing well and crucial to the side's success.
"But I'm relying on Jimmy's game nous, his ability to be able to run the ship, his communication skills – I can't talk highly enough around his ability to read the play and help others get organised and I think that's what we need right now," he said.
That was no disrespect to other five-eighths but he was happy having Fletcher Smith to come off the bench and do a job as well.
The scrummaging prospects were looking better in the longer term. Alex Fidow was due back from injury after the bye and while his recovery was a race against the clock to make the South African trip he is seen as a key player on the tighthead.
In the meantime, recruited cover Ross Geldenhuys, who became the first player to appear for five Super Rugby teams against the Blues, had done a fine job when coming on after a yellow card to Jeff Toomaga-Allen.
"He came on twice to defend a scrum five metres under the posts, worst place for a tighthead to come off the bench so I thanked him afterwards for that because that was pretty tough to have to do that. He got the worst possible baptism of fire from a fired-up Blues forward pack
Hooker Dane Coles' continuing issues with his calf muscle remain a concern but they were hopeful he would be able to tour South Africa after the bye.
"We're still treating him pretty lightly. He's had a couple of scans on his back to make sure his back is all good and we've had some good reports around that.
"We're just taking our time with him. We were hoping he might play a part this weekend, but we're just being cautious with him," he said.
??? PREVIEW | Can @JaguaresARG become the first non-NZ team to beat @Hurricanesrugby at home since 2015?

Get the lowdown on this crucial clash ???? https://t.co/sIAyyTxayq#HURvJAG pic.twitter.com/C1K55SJXFo— Super Rugby (@SuperRugbyNZ) May 16, 2019