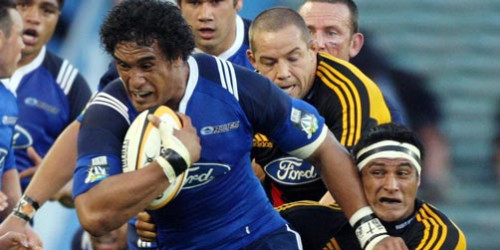 The Blues will be looking to continue their good opening and a loss by the visitors will involve a degree of carelessness.
VENUE & TIME: Ellis Park, Johannesburg, Sunday February 24, 06.05 NZT (19.05 Saturday local).
HEAD TO HEAD: Played 12 – Transvaal/Gauteng/Cats/Lions 4, Blues 8.
LAST TIME: March 10, 2007 (Auckland) – Blues 41-14 Lions.
WALKING WOUNDED: The only change in the Lions lineup sees impressive No 8 Willem Alberts return to the team after recovering from a knee injury. Daniel Braid is still out of action for the Blues but they came out of the Chiefs match in pretty good shape and David Nucifora has named the same starting XV as last week. The only bench change sees Bryn Evans replacing Anthony Boric as lock cover.
FORM: Both sides won last week but the Blues were more impressive. The Lions had to hang tough to get up over the Cheetahs, even if there was considerable doubt about one of the Cheetahs' tries, and it wasn't until late in the match the necessary points were secured. It took about half the game before the Blues really got on top of the Chiefs but there was only one team in it after halftime, as the Blues dominated territory, possession, good ideas and the scoreboard on the way to a bonus point win.
WHO'S HOT: The Lions battled away for much of last week's clash and the forwards did a good job of hanging in against a tough opponent. Eugene Eloff has gone for plenty of height in the forwards, while openside Cobus Grobbelaar will be relied upon for the fetching role. Jano Vermaak is a handy halfback but many of the backs appear tradesmen when compared to their Blues opposites. Earl Rose, who can be very good or very bad, kicked the vital goal that snatched the win last week. The Blues were in total command by the end of the Chiefs match, powered by an excellent forward effort. John Afoa will be looking to mark his 50th match for the Blues in style and to continue his strong form from last week, while Troy Flavell and Jerome Kaino both had outstanding games. Danny Lee settled well at halfback, Nick Evans was everything the Blues hoped for and the outside backs were dangerous when given the chance. Joe Rokocoko looked back to his best as he made a series of dangerous runs and the defence, particularly in midfield, was punishing.
WE THINK: However one looks at it, the Blues appeal as a better team and we think they should pick up four points in this one, although the score might well be tighter than many expect. We tip the Blues by 10 points.
TEAMS:
Lions: 1 – Heinke van der Merwe, 2 – Willie Wepener, 3 – Ross Geldenhuys, 4 – Anton van Zyl, 5 – Gerhard Mostert, 6 – Cobus Grobbelaar (captain), 7 – France van der Merwe, 8 – Willem Alberts, 9 – Jano Vermaak, 10 – Louis Strydom, 11 – Rayno Benjamin, 12 – Doppies la Grange, 13 – Jaco Pretorius, 14 – Dusty Noble, 15 – Louis Ludik.
Reserves: 16 – Gavin Williamson, 17 – Gert-Andries van der Merwe, 18 – Alten Hulme, 19 – Joe van Niekerk, 20 – Chris Jonck, 21 – Earl Rose, 22 – Jaco van Schalkwyk.
Blues: 1 – Tony Woodcock, 2 – Keven Mealamu, 3 – John Afoa, 4 – Kurtis Haiu, 5 – Troy Flavell (captain), 6 – Jerome Kaino, 7 – Justin Collins, 8 – Nick Williams, 9 – Danny Lee, 10 – Nick Evans, 11 – Joe Rokocoko, 12 – Benson Stanley, 13 – Isaia Toeava, 14 – Anthony Tuitavake, 15 – Isa Nacewa.
Reserves: 16 – Tom McCartney, 17 – Nick White, 18 – Bryn Evans, 19 – Onosai'i Tololima-Auva'a, 20 – Taniela Moa, 21 – Ben Atiga, 22 – Rudi Wulf.
REFEREE: Stuart Dickinson