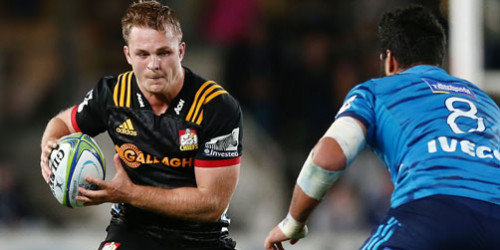 Assistant coach Neil Barnes said the Chiefs hadn't spent too much time this week looking at the Reds. They were unhappy with their own game against the Blues last week and had been concentrating on fixing their own game.
---
QUICK TAP: REDS REST KEREVI FOR CHIEFS GAME
---
They were disappointed with their ball retention and how they played when they had the ball and there had been a lot of discussion on how they were going to correct that.
"It was out of the blue for us. Normally with our attack side of our game has been tracking along quite good. We just didn't turn up at the weekend on that side of it and we're all pretty disappointed about it," he said.
"It wouldn't worry me who they [the Reds] threw out there, we've just got to get our own game together and concentrate on that," he said.
"We're still in the hunt, obviously it's got tougher now that we've lost that game last week, we're going out every week looking for five points and nothing else has been discussed."
The Chiefs will use both Sam Cane and Lachlan Boshier in a traditional left-right role of flankers.

?? It's crunch time in #SuperRugby! You won't want to miss the @crusadersrugby v the @BluesRugbyTeam match on Saturday night!#RaiseTheStakes pic.twitter.com/YD0L5OU9Hm— Super Rugby (@SuperRugbyNZ) May 21, 2019
Barnes said once they got away from the set-piece there wasn't a lot different in what was expected of them. They had different roles and they had talked about what they would do off each starter point of play and they would get on with it.
"It wouldn't worry me what number they had on their backs. We just talked through what roles they are going to do off set-piece and from there on it's just rugby and they play," he said.
Barnes added that it hadn't been a source of discussion with the All Blacks selectors as they considered options for the Rugby World Cup. Rather it was the Chiefs were so injury struck they were just trying to fit a team together that would be best for them on the weekend.
The flexibility the Chiefs were able to employ among their forwards was a bonus and while the players had preferred positions their flexibility did allow for selection options.
In the backline, and in the absence of one of the season's most consistent midfield players, Anton Lienert-Brown, who is on All Blacks stand down time, the selected pair of Alex Nankivell and Tumua Manu had a big challenge in front of them against a Reds side who had one of the best tackle-break counts in the competition. Although one of the key factors in that statistic, Samu Kerevi will not be playing.
"I'm sure both of those two boys are up to it," Barnes said. "Kerevi's at the top of the list for busts, but the other two boys are up there too."
Gallagher Chiefs vs Reds.

???Friday 24 May.
???FMG Stadium Waikato
?7:35PM
????? https://t.co/w4zg91gRZd

READ MORE: https://t.co/yEGFao8V3M#CHIvRED #ChiefsMana pic.twitter.com/gHC4Xszw3R— Gallagher Chiefs (@ChiefsRugby) May 22, 2019