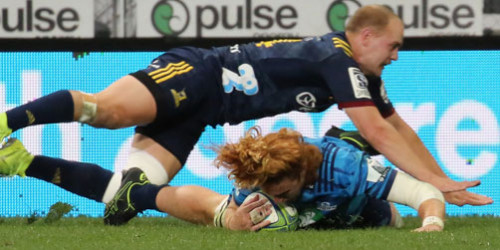 Coach Leon MacDonald said it was a frustration because they were playing good rugby at home but were unable to reproduce that on the road.
---
QUICK TAP: INVESTEC SUPER RUGBY REVIEW ROUND TEN
---
MacDonald said he was disappointed with the result. The Blues had a lot of opportunities in the first half and didn't convert them.
"In the second half the game just slipped away from us through errors and their good play. I thought they just applied some pressure, were tenacious at the breakdown and we just couldn't get it together really," he said.
"We're making a lot of errors, a lot of them unforced and a lot of them through good play at the breakdown. We worked really hard on the breakdown during the week, it's an area we really concentrated on and when we started to get good quick ball, we were starting to make good progress there and finding holes," he said.
"We made 18 errors, turned over a lot of ball and weren't able to build phases really. Through that we weren't able to apply pressure for long periods of time, especially in the second half when we were playing a lot of rugby in our own half. We weren't able to get field position as well so that was on the back of handling errors and giving them opportunities to stay down and keep the squeeze on us.
"They played their game really well and we didn't cope with it," he said.
Given the Blues' improved scrum performance this year it had been disappointing to concede a penalty try from a pushover, especially when unable to win one themselves and it was just one of those moments that they weren't getting right, he said.
The effort in the first quarter had been frustrating. They had scored a good try to flanker Tom Robinson, and they had mounted pressure through their pack and then there was an intercept and they were down the other end of the field.
"Just like that, all of a sudden, you've gone from hot on attack to scrambling. We just didn't get over the line, for whatever reason. We need to be better down there," he said.
"We put a lot of effort in during the week to get the result and you feel it when it doesn't happen," MacDonald said.
It's time to pick your Super Rugby form XV of the week! Let us know who was on form in round ?? and you could win a Super Rugby jersey!

GET STARTED ?? https://t.co/8YShltuDVw pic.twitter.com/K3U8OfzwN2— Super Rugby (@SuperRugbyNZ) April 20, 2019