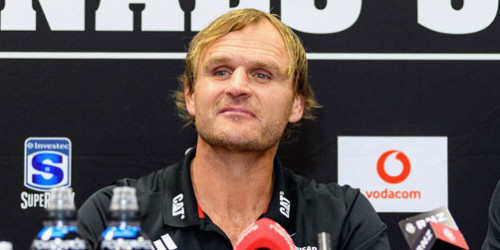 The former All Black and Crusaders loose forward, who achieved a playing hat-trick of Super Rugby titles, would achieve a unique player-coach double should his side win, but he knows the danger the Jaguares represent.
---
QUICK TAP: JAGUARES CONFIDENCE COULD HELP PUMAS - HANSEN
---
"They're good. We're really impressed with their quality of play, their variation in their style of attack. They rank really highly in all the stats, defensively they're second in the comp [competition], they've got a lot of international experience. They're on a roll," he said.
But previous experience had taught him that most finals were won off defence and that has been crucial to the Crusaders' preparation this week.
Avoiding the emotion of the contest and leaving that to the Jaguares would be another key factor.
"The passion and emotion they bring I think is a danger. If they come out and play with that energy, which is great and I enjoy that Latin expression that they bring, they'll be emotional, they'll be up for it, and they'll be dangerous," he said.
The Crusaders had also been forced to adapt to injury circumstances in the absence of lock Scott Barrett, one of the players of their season, and second five-eighths Ryan Crotty, who both suffered hand injuries in last week's semifinal against the Hurricanes.

?? Will @crusadersrugby be singing the same tune on Saturday night?

Who's pumped for the final?#CRUvJAG #RaiseTheStakes pic.twitter.com/9PozGh6tLl— Super Rugby (@SuperRugbyNZ) July 3, 2019
Robertson opted to play Mitch Dunshea at lock ahead of Quinten Strange while Luke Romano has been left to come off the bench.
"Mitch has played a lot more rugby recently. [Strange] has had two or three injuries back-to-back and hasn't played for quite a while. Every time Mitch Dunshea has played he's been exceptional for us. We think he will suit the style the Jaguares play this weekend," he said.
Romano had been a key contributor to the side from the bench and Robertson was happy for him to continue in that role.
"He's tough and brutal, as we know, but his game-understanding and game management is a great way for him to add to the leadership group and players on the field at the time," he said.
In the backline fullback David Havili has been named vice-captain in Crotty's absence.
Have you booked your spot to the #SuperRugby final yet?

Grab your tickets here ?? https://t.co/gNdL2MG1A3 pic.twitter.com/RHm5bOgQjN— Super Rugby (@SuperRugbyNZ) July 3, 2019
"Dave's a very special player. His utility is amazing. He started with the Crusaders as a wing and he was a 10 [first five-eighths] when he was at school.
"Ten, 12, wing and 15, now vice-captain for us in a final. He's up to 80-odd Super matches. He's pretty special for us in our group. He's a quiet leader, but when he talks everyone listens.
"The way he's been performing this year is as good as anyone else in Super Rugby," he said.
It had been hard for Crotty and Barrett, having to watch on from the sidelines, but for Crotty especially as he heads off shore at the end of the season and had been denied a flourishing finish for the side in a final.
"He's had to wear a different hat this week. That's not easy going from being out there and you can train, play and then all of a sudden you've got to help someone else do that. He's had a great week leading in a different way, and Scott Barrett's been the same," he said.
?? Sevu Reece is on the verge of claiming the record for most tries in a season. The current record his held by @Hurricanesrugby wing Ben Lam (16 tries) #RaiseTheStakes pic.twitter.com/GHsBfwe5RP— Super Rugby (@SuperRugbyNZ) July 4, 2019