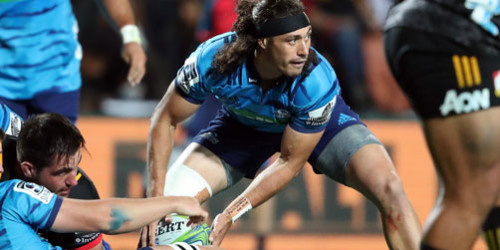 As the Blues look to Saturday against the Highlanders in Dunedin and turning around another of the statistical hurdles that have grown during their time off the Investec Super Rugby pace in recent seasons, Ruru has been able to witness the improved forward effort that has lifted the Blues towards being a more competitive unit.
---
That has also allowed the three-time Maori All Black and former All Blacks Sevens player, who hails from Hawke's Bay, a key role as the side's starting halfback in games to date.
"It's always good to get on the field, especially good to start. Being behind our pack this year is really enjoyable. I think they're really hard-working this year, and they're gritty.
"Even though we didn't do the job at the weekend against the Chiefs there were a lot of positives to take out of it and to put towards this weekend's game," he said.

ROUND ?? | Another thrilling New Zealand derby is on the horizon, who are you picking to take out this week's Kiwi games?#RaiseTheStakes pic.twitter.com/8c7khg5Sks— Super Rugby (@SuperRugbyNZ) April 16, 2019
Having a good supply of ball consistently meant getting good ball out to the backs, who could be lethal when they struck.
"I'm the middle link that delivers the ball and when it's front foot and got the opposition going backwards it's even better for our outsides," he said.
Ruru said coaches nowadays were trying new things both in attack and defence and building their play around the players they were able to call on.
"It's been good, this year's been about learning a few things for myself in my role but I enjoy it, and I enjoy the physical side of it as well," he said.
While new coaches were involved with the side they brought new things and not having worked with head coach Leon MacDonald before he found he was learning different things for his game.
"Every coach sort of helps you in a way and a few detailed things he has brought have brought attention to my game."
Ruru said the main thing to the improvement in his game was working on consistency and nailing his job.
It was more of a mental shift.
"It's not as easy to see but the way he has got me thinking about my game is a little bit different to what I have in the past," he said.
Much of his earlier first-class rugby was played in Dunedin in 2016-17 when he made 22 appearances for Otago, and he was well familiar with playing in the Forsyth Barr Stadium and he felt it would be a good game with the Highlanders.
"We know they are going to bring everything and throw the kitchen sink at us, we're ready for that, so it's going to be a whole lot of fun," he said.
STORY | "We're going to have to work collectively to replace him" - @ChiefsRugby look to move forward without Damian McKenzie for the rest of the season.

READ ???? https://t.co/uOStVe3UQZ pic.twitter.com/lDcgMuvrfz— Super Rugby (@SuperRugbyNZ) April 16, 2019