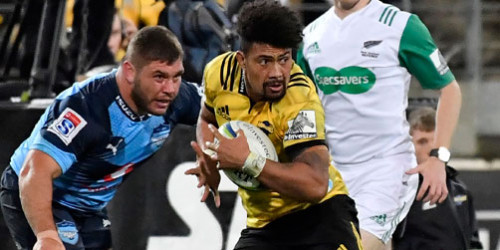 After the Bulls lost 28-35 to the Hurricanes in Wellington, and the Sharks went down 13-38 to the Brumbies in Canberra, the South Africa Conference will be represented by the Jaguares in next weekend's semifinals.
But South African critics are saying Springboks coach Rassie Erasmus would see the absence of sides as a silver lining to his Rugby World Cup preparations.
Rob Houwing said on sport24.co.za, "That puts Erasmus at an automatic advantage over his New Zealand, Australia and Argentina counterparts, who must still look on nervously for a week or two more as some of their Test personnel slug it out further.
"But over the next two weekends, the Bok mastermind knows that the risk of injury in competition to any of his players – major European club seasons have ended too – has been eliminated.
"So there is really a month for him to both freshen up and then gradually prepare his men for the challenge of the Wallabies in this year's abbreviated Championship: the period should allow for some useful conditioning for key players, without the risk of often contact-related mishaps in the heat of battle," he said.
Meanwhile, the disappointment for the Bulls in their loss to the Hurricanes was tempered by the realisation they had turned a psychological corner.
Coach Pote Human said his side had developed the skills and heart to be competitive even when they are on the road.
They earlier had draws against the Blues and Highlanders in regular season play in New Zealand and for a while in Saturday's Westpac Stadium thriller it seemed another might be on the cards. But the Hurricanes held on to book a semifinal against the Crusaders.
"The guys have now proved we can play away from home. We can even play in New Zealand. That makes me proud of the players," he said.
"We were in the game throughout. I was worried we would fall away in the closing minutes because we had travelled so much.
"The guys showed a lot of character and maybe we could have drawn it if there was more time," he said.
Human wasn't especially critical of a key ruling regarding a possible try for No.8 Duane Vermeulen which was ruled after the TMO was asked by Nic Berry for any reason why had should change his decision of no try due to Vermeulen being short of the line. The TMO said there was no clear reason to change his ruling.
"I thought the ball touched the line but it was one of those 50/50 calls that goes against you. Away, you are going to get those against you. That's rugby," Human said.
Wing Cornal Hendricks had been outstanding in the few chances he received scoring two tries and having the chance to draw the game in the final moments only to lose the ball.
"He is hitting form now. Maybe Rassie [Erasmus-Springbok coach] can use him. He showed he can compete at this level," he said.
While the Bulls had shown they could win overseas, they will have to do it next season without several of their key players as first five-eighths Handre Pollard, lock Lood de Jager, centre Jesse Kriel, hooker Schalk Brits, locks RG Snyman and Jason Jenkins and No.8 Vermeulen are all leaving the side.
Human said it was heartbreaking to lose players of their quality and experience. The backline would remain 'reasonably strong', he said but they would need to find locks and flankers.