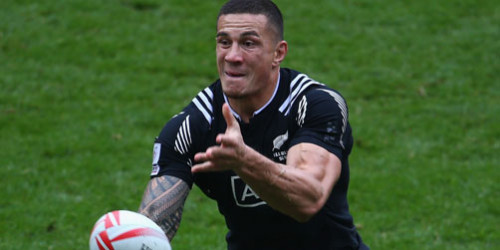 Speaking after being named on the bench for the Blues' Investec Super Rugby game against the Highlanders in Dunedin on Saturday, he said he felt he had got a little faster.
"I've just been real diligent in my preparation and I've been diligent every day, making sure I tick that box, tick those boxes because there's a lot of them to tick but time will tell.
---
QUICK TAP: BLUES DEBUT BECKONS FOR SONNY BILL WILLIAMS
---
"I'm back at a pretty good return date so I just want to get out and play some good footy and not worry whether I am going to start or make this team or that team," he said.
Williams said his goal was to be competitive, not to set the world on fire but to work hard and when he got his shot that is what he would be doing.
"I'll be pushing myself to back up the boys, not let the team down and also not try to set the world on fire.
Williams said he was excited to be back, it had been a long journey in recovery since the Rio Olympic Games.
"I'm really itching to get back out there now," he said.
Williams said when he was first hit with the injury he got down over missing out on competing at the Olympics but he found his mindset adjusted quickly.
"I thought 'This is my body telling me I need a bit of a break, I'm going to be at home with my girls for a bit' and that's where it started," he said.
"I made the decision early on that I was going to come back in better shape, better nick than before the injury so it's been a long journey, but time will tell. I'm certainly in a good frame of mind," he said.

The man of the moment, named on the Blues bench for Saturday's game against the Highlanders. ??#BluesAllDay pic.twitter.com/8ojTBghyLO— The Blues (@BluesRugbyTeam) April 5, 2017
While he had been looking to do all the basic necessities in returning to the game he had been working on upskilling himself in game understanding as well.
"It [the break] has made me really understand that I love what I do and I'm doing what I love," he said, while also getting more family time.
It had been tough, and there had been a lot of sacrifices and hard work but he was happy with where he was at.
"For me, this week is just about being grateful to be back out there with my brothers, appreciating the road that I have taken to get here," he said.
Williams said he was aware his return would have an impact on future selections for the mid-fielders in the side but he said they were a tight group and he enjoyed the company of the others.
"We understand that we all want to start but there can only be two people starting, or three who can be taking that field at the weekend so the rest we prepare them as well as we can. This week's no different," he said.
A tantalising midfield battle awaits when the @Highlanders host @BluesRugbyTeam this Saturday!

TICKETS: https://t.co/bEv2tYAwAI#HIGvBLU pic.twitter.com/PhGL5Bq31o— Super Rugby (@SuperRugbyNZ) April 5, 2017