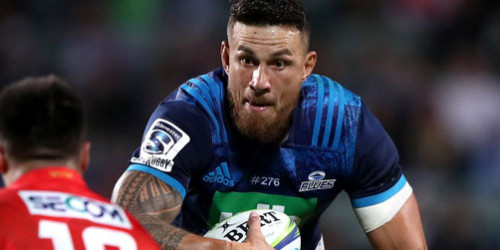 Williams had a knee injury that kept him out for the past two months and was close to playing last week but had been cleared for the Westpac Stadium game where the team was still determined to do well.
---
"I think the key for us is not getting ahead of ourselves, not thinking about Mitre 10 Cup, not thinking about club, not thinking about international, whatever. Just be where our feet are, do the little things well and if we do those little things well we've got the firepower to put someone to the sword and hopefully that's this weekend," he said.
Williams said he was feeling good to play. It had been a long process to get back from injury but he was looking forward to playing against the Hurricanes and having 'another crack' in the Blues' last game.
It had been frustrating but he had been determined to keep his feet on the ground and to be as positive as he could be and to be the best teammate, father and rehab exponent that he could be.
He wasn't prepared to say whether it was his last game for the Blues, rather it was a case of 'never saying never', he said.

"I'm really just focused on this week and trying firstly to get a win with the boys and to play some good rugby," he said.
Watching long time teammate Ma'a Nonu carry much of the Blues' midfield burden in his absence, Williams said at 37 Nonu hadn't missed a beat. They had been close for a long time and he had always admired him for the way he went about things on the field.
"Spending the season with him has really shown how much of a professional he is off the field," he said.
"He does his thing on the field but off the field in the sheds he's just a good man to have and have a good laugh and get the boys up when the boys need it," he said.
Nonu starts the game on the bench but Williams was hopeful they might share some time on the field together during the game.
Looking to his possible World Cup hopes, Williams said he was all about being measured but he wasn't the person who picked the teams. All he could do was tread an upward path while at the same time retaining his balance and if that happened things tended to go well on the field.

?? FLASHBACK! We take you back to 2014 for @BluesRugbyTeam's last victory over the Hurricanes. Can Ma'a Nonu inspire the Blues onto victory again five years later?

??? Grab your tickets to Saturday's game at @WestpacStadium ???? https://t.co/MmuoV6KERd pic.twitter.com/p17ffBzGZi— Super Rugby (@SuperRugbyNZ) June 13, 2019
Williams said part of reason for that approach stemmed from when he suffered his first knee injury at age 22 and a doctor had told him he wouldn't be surprised if he didn't play past 25 years of age. Since that time, and now aged 33, he took the view that everything else had been a bonus.
"From an early age my mindset was that this could be my last year, this could be my last day, this could be my last campaign, how am I going to go? That still hasn't changed," he said.
Williams said he had mistakes in his life but he believed mistakes were lessons so long as you learned from them and moved ahead, and he had always tried to have that approach.
Reflecting on the Blues season, Williams said it could be looked at from the glass half full, glass half empty viewpoint, and some Blues fans might ask if there was anything in the glass at all, but he said if they had won against the Reds last weekend they could have been in the playoffs.
"But it's just been the story of our season," he said.
Mistakes had been made, and if they were learnt from, that was for the young group in the Blues to come back next year and apply in their quest to be better.
"I feel like we're moving in the right direction," he said.
???? if you're happy SBW is back!#HURvBLU #RaiseTheStakes pic.twitter.com/ej1vevTskD— Super Rugby (@SuperRugbyNZ) June 13, 2019