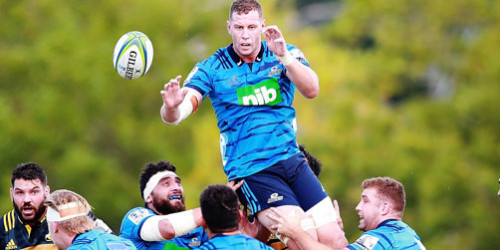 He's on the cusp of getting back onto the park again, and that can't come quick enough, but as a result of work put in during his absence there is an anticipation he will be even better equipped to handle the demands of both the position and the competition.
---
QUICK TAP: SHARKS 2019 TEAM PREVIEW
---
Two-metres tall with 15 Blues appearances, Scrafton, 25, demonstrated his worth in the brief time he had before his injury, a significant part of that being a share of the Blues 2017 win over the British & Irish Lions.
"Growing up as a kid in New Zealand and watching them play, and then getting to play against them, and beat them, you can't really describe it to be honest. Having been brought up knowing my rugby history and knowing what the history of the Lions team is, and what sort of calibre of player they have and to beat them on Eden Park in front of a sellout crowd, was a pretty amazing," he said.
But such early exposure to the demands of playing an international side had made a big impression on him. They were hard, liked to take opponents on and beat them up but that was fun as a lock, he said.
"It was a huge experience, obviously a pressure moment for myself in my first proper year playing at that level and there was a bit of responsibility with calling the lineouts and all that sort of stuff. Now I'm feeling confident and it's given me the confidence to try and take my game to another level," he said.

Northland we are coming!

On Saturday the 2nd of February, we will take on @ChiefsRugby in Kaikohe. Massive thanks to @RugbyNorthland for making it happen.

Grab your tickets now from https://t.co/YHukfHTyXB#RiseUp #BluesAllDay pic.twitter.com/v211HWwpb9— The Blues (@BluesRugbyTeam) January 23, 2019
Scrafton's enjoying being back running and putting into action the modifications that have been applied as a result of the injury he suffered in round three of last season in Johannesburg. He hyper-extended his knee but in the process did his ACL and LCL and also ripping the tendon off the bone which give him nine to 12 months to return to play. His aim is to complete it in 10 months.
"I was really enjoying my rugby but then we didn't have a great year, for myself and the team and it was really frustrating. There were probably six weeks when I was in bed because of my knee and I couldn't be around the boys so it was a really frustrating time in my life," he said.
Three and a half hours of surgery were involved in repairing him and then his right leg was in a straight leg brace for six weeks. That meant he couldn't drive and was restricted to getting taxis. But he had high praise for the Blues medical staff and the New Zealand Rugby Union who proved very supportive.