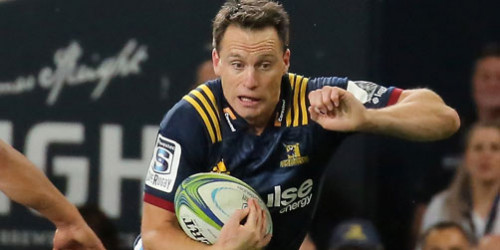 Coach Aaron Mauger said the side had been buoyed by having captain and fullback Ben Smith back and with flanker Liam Squire and wing Waisake Naholo also back, there was a stronger look to the side.
---
QUICK TAP: CHIEFS SETTLE IN FOR JAGUARES CHALLENGE
---
Smith had trained well earlier this week and there had been no doubt about his selection.
"He was touch and go last week but we thought he would be a good chance for this week and he's done everything required and was really confident running around at full pace yesterday and getting off the ground and in the air so we're confident he can go and do the job," Mauger said.
Sio Tomkinson's selection on the left wing was down to his versatility. While he preferred the midfield he had played well on the wing when required and he had a great kicking game while they would also need his toughness.
"He's one of our strongest defenders in our team. It's going to be a physical battle and we expect the ball to be wet. If you play a game at Christchurch at this time of the year at night time even if it's not raining you can expect a wet ball and we just think his ability to defend out in those wide channels are good reward for his consistency through the year as well."

?? Check out Sevu Reece's 13 tries so far in 2019. Do you think he can continue this form into the playoffs and break Ben Lam's record of 16 tries in a single season?

? Fri, 7:35pm
?? Orangetheory Stadium, CHCH
?? https://t.co/Ym0u0yeLm5
?? SKY Sport NZ
?? #CRUvHIG pic.twitter.com/fHAMF4UUps— Super Rugby (@SuperRugbyNZ) June 19, 2019
The win over the Waratahs in Invercargill at the weekend had been the perfect dress rehearsal for the side. They had achieved their three goals of controlling the territory, were physical and had worked hard for each other.
It was a simple game, and if you did those three things well you gave yourself a chance of winning, he said.
"It hasn't been a perfect year for us but we've played some really good footy. We've had a couple of results that haven't gone our way but could have quite easily gone our way…we're happy with our game and where it's at. It's reset time, we go there and it's 0-0 and we give ourselves the best chance to go up and have a crack."
Mauger said first five-eighths Josh Ioane had revealed another step in his game when his control had been so influential, in the conditions and in the win in Invercargill.
"We know that he can run, and he's tough but I thought how he controlled the game and the field position was really critical last week and that set us up to score some points," he said.
It had also been encouraging that the side looked after the ball better in the wet conditions in the south and conceded less points.
We have 4? New Zealand teams in the #SuperRugby playoffs! Will you be part of the action at the stadium, or watching live on @skysportnz? #RaiseTheStakes pic.twitter.com/PG0kQZxz07— Super Rugby (@SuperRugbyNZ) June 18, 2019