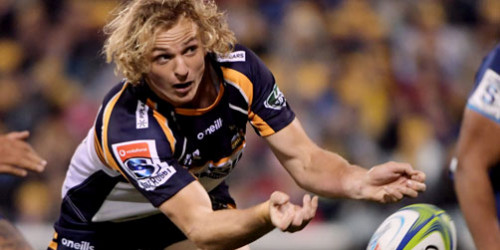 Cubelli spent two years with the Brumbies in 2016-17 and Powell was best described as his apprentice.
---
QUICK TAP: SEMIFINAL WILL BE ANOTHER HARD BATTLE - CROTTY
---
Powell told rugby.com.au, "He was the starting halfback in my first year of professional rugby, and he really helped me out and, definitely, it will be enjoyable to play against him this weekend.
"His ability to back himself and his running game. That's something he really taught me. Just to have a go, back yourself and see what you can do."
Since Cubelli returned to Argentina, Powell has made the starting spot his own and last weekend was his first taste of playoffs success.
"I've got a few games under my belt now and it was good to get that first finals win. I'm not really approaching games any differently but I know a bit more about my opponents when I go into games now."
Flanker Locky McCaffrey is expected to return to the starting XV as a result of the injury suffered to former Crusader Pete Samu who was injured during the quarterfinal against the Sharks.
"It's really disappointing for Pete. He showed everyone how athletic he is with the two tries he scored against the Sharks. But that happens in teams and I'm sure the rest of the forwards will cover the workload
"I think all finals games require a lift in intensity and that was a good example last weekend but we're going to lift this weekend against the Jaguares.
"I don't think we'll change much focusing on ourselves as focusing on ourselves for the last few months has been working well for us.
"The Jaguares present different threats. They have a great set piece and a really attacking backline with a strong back three that can really strike in counter attack, which is something we've previewed.
"They have good ball carriers, they're hard at the breakdown and we'll have our job cut out for us.
"Not many teams come to Buenos Aires and beat the Jaguares so it'll be a tough night but one we're really excited for," he said.
Given the history surrounding the occasion with the South Americans hosting their first semifinal, McCaffrey said he expected the Jaguares would step up.
"They've got Test players with that Test experience that they'll bring again for a big match and a big semifinal at home. They've got passionate fans and passionate players who love representing their country.
"We're just focusing on ourselves to be at a high intensity come Friday night (Argentina time) and hopefully we can start well and take out some of that crowd."
?? Will the home teams go through to the #SuperRugby final? @SKYSportNZ's Breakdown crew look at how important home advantage is in the playoffs.

FULL EPISODE ???? https://t.co/2sxjtoP622 pic.twitter.com/FzkgjmbSGF— Super Rugby (@SuperRugbyNZ) June 26, 2019