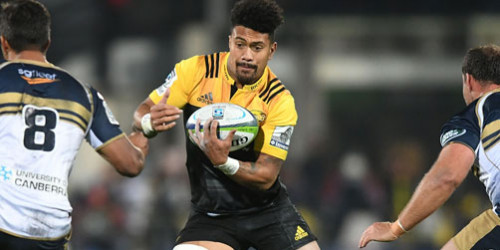 Claiming a 26-24 win, in Sydney, the Kings lived up to the cliché so often talked about by players and coaches that 'any team in the competition can beat any other'. But, difficult as that is to believe sometimes, the Kings delivered.
New Zealand Conference
Continuing their impressive roll through the first half of the competition, the Crusaders dealt a record loss to the Stormers, 57-24, and with similar displays against the Cheetahs and Bulls on South African soil it is hard to see their run coming to an end yet but their May 13 date with the Hurricanes is shaping as a thriller.
The Chiefs had to battle for their 16-7 win over the Force in Perth and will be looking forward to getting home to take on the Sunwolves.
The Highlanders lengthened the gap between themselves and the Blues with their 40-15 win over the Sunwolves, but they face a tougher prospect against the Stormers on Friday. The Blues travel to Canberra to play the Brumbies next Sunday.
Australia Conference
The Waratahs' upset loss to the King didn't affect the balance of the Australian Conference too much because the Brumbies were handed a hiding by the Hurricanes in Wellington, going down 21-56. At the halfway stage of the season there is only a 10-point margin separating the five Australia sides so picking a likely qualifier this far out remains tricky.
The Rebels are on the bottom of the pack but holding the Sharks to a draw in Durban has to be something of a bonus for them but the Force showed enough spark in their 7-16 loss to the Chiefs to ensure tough times ahead for Australia when they choose who to drop from the competition.

African Conference 1
Time may well mean that the Stormers have cause to be thankful for their early run of form. They were well beaten by the Crusaders in Christchurch and face two more tough games in New Zealand, but even if they returned home winless it is hard to see any of the other sides in their Conference coming through to claim top place.
The Bulls squeaked to a 20-14 win over the Cheetahs while the Sunwolves were well off the pace in Invercargill, going down 15-40 to the Highlanders.

African Conference 2
The Lions remain the pace setter in South Africa and that position is unlikely to change given the absence of New Zealand sides in their draw this year. They bolstered their position atop the Conference with a 24-21 win over the Jaguares in Johannesburg.
The Sharks and Rebels played out that rarest of events in Super Rugby, a tryless 9-9 draw. That allowed the Sharks to hold in second place, eight points behind.
RT if you ?? Fumi.#HIGvSUN pic.twitter.com/zqm3azAbob— Super Rugby (@SuperRugbyNZ) April 22, 2017